By Regan Jarvis, Feature Editor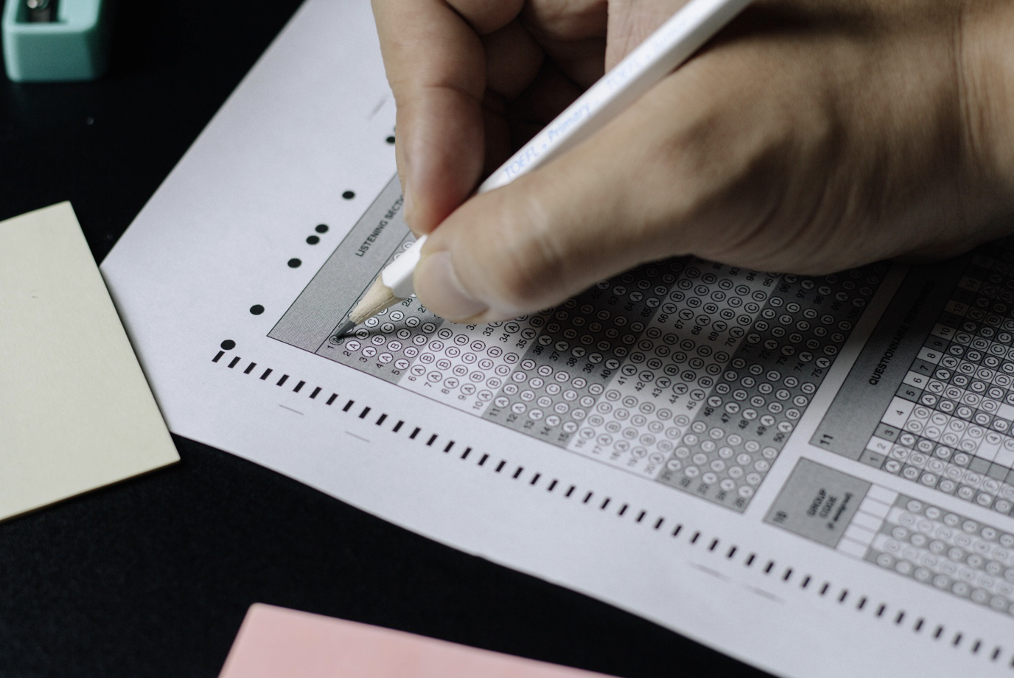 Photo courtesy of unsplash.com
Beginning in 2025, law school applicants may no longer be required to take the Law School Admissions Test ("LSAT").[1] This decision was determined by a vote by the American Bar Association ("ABA"), after a longstanding debate on the merits of the exam.[2] The LSAT has been a staple of law school admissions for decades; the first time the exam was officially administered was in February 1948.[3] This move away from the LSAT comes among a larger academic move from standardized testing that has been termed "GRExit."[4]
The University of Michigan's biomedical Ph.D. program was one of the first post graduate programs to eliminate the Graduate Record Examinations ("GRE") from its application requirements.[5] Dr. Scott Barolo,[6] the director of Michigan's biomedical program, initiated a "program-wide reexamination of the GRE requirement" in 2017 after the National Institutes of Health along with the National Science Foundation's Graduate Research Fellowship Program changed their GRE policies.[7] In September 2017, at a town hall meeting organized by Michigan's biomedical program, faculty and students discussed their opinions on GRE requirements.[8] Students in attendance argued that the test-taking strategies used on the GRE were not useful to their post-graduate studies and research.[9] Since 2017, a wave of graduate programs have opted to drop the four hour long exam, citing reasons such as the burden placed on low income students, the exam's inability to predict academic success, and the exam's potential to disadvantage underrepresented students.[10]
The "GRExit" philosophy eventually made its way into law school debate. The debate has been one of great complexity due to the fact that the LSAT "or a similar test" is required by the ABA, an accreditor, rather than law schools themselves.[11] Incidentally, the ABA is the only professional school accreditor that requires the use of an admission test.[12] A resolution proposing the end of the standardized test requirement was first introduced in the ABA House of Delegates in 2018.[13] However, the resolution was pulled before a vote occurred.[14] The resolution was later reintroduced, and in November 2022, the ABA accreditation council voted to end the mandate.[15]
In February 2023, the move toward test-free admissions hit a speed bump when the ABA House of Delegates voted against the mandate ending proposal during its mid-year meeting in New Orleans, Louisiana.[16] Despite this snag, the ABA's Council of the Section of Legal Education and Admissions to the Bar decided to move forward with the proposal sans approval of the House of Delegates.[17] The ABA House of Delegates will vote on the resolution again in August 2023.[18] In the event that the resolution fails to pass in the House of Delegates a second time, the Council will still be able to move forward without its approval.[19]
The ABA's philosophical split over the standardized test requirement boils down to one issue: diversity.[20] Aaron N. Taylor, the executive director of the Center for Legal Education Excellence at AccessLex, produced research that suggests that the use of the LSAT is a contributing factor in the lower acceptance rates of Black aspiring lawyers in comparison with their white counterparts.[21] A Fordham School of Law publication also criticized the mandate; the publication quoted a Fordham student who theorized, "[i]f more LSAT prep courses and other resources were more accessible, then perhaps the LSAT wouldn't be such an issue regarding the diversity gap in admissions."[22]
However, many LSAT defenders are worried that ending reliance on standardized testing will have more negative effects on law school diversity.[23] In a letter to the ABA, 50 law school deans said that the elimination of the standardized test requirement would "increase reliance on grade point average and other criteria that are potentially more infused with bias."[24]
Proponents of ending the mandate point to flexibility in the admissions process as one of the positive results of such measures, but flexibility arouses suspicion in others.[25] Paulette Brown, in an address to the ABA House of Delegates stated, "Every time I hear the word 'flexibility,' the hair goes up on my neck. Because when you talk about flexibility, that means subjectivity. And when you introduce subjectivity into any process, it provides too much opportunity for mischief."[26] Brown is an ABA delegate as well as a former member of the ABA's Council of the Section of Legal Education and Admissions to the Bar.[27] She was the first Black woman to serve as the Association's president.[28]
The ABA's move from the LSAT raises a myriad of potential issues. Whether the end of the standardized testing mandate will help or hurt efforts to diversify law schools' student bodies remains up for debate.[29] Daniel Thies[30] of the ABA noted that the decline of standardized testing in non-law universities has not had overwhelmingly negative effects.[31]"The goal is to open up innovation—finding other ways that might complement the current admissions processes to move us ahead in legal education on diversity and a host of other considerations," Thies continued.[32]
Although delayed for now, it appears to be a certainty that the ABA will end the LSAT mandate. However, it is of the upmost importance that the ABA considers the effects on students of color. Presently, the proportion of lawyers in the United States that are Black only constitute five percent, and this rate has remained stagnant for nearly a decade.[33] The legal profession is clearly facing a crisis in terms of diversity in the profession. One can only hope that GRExit will assist in remedying this crisis rather than exacerbating it.
---
[1] Karen Sloan, ABA Votes to End Law Schools' LSAT Requirement, But Not Until 2025, Reuters, (Nov. 18, 2022 4:28 PM EST) https://www.reuters.com/legal/legalindustry/aba-votes-end-law-schools-lsat-requirement-not-until-2025-2022-11-18/.
[2] Alfred Greig, ABA Removes LSAT Requirement for Law Schools, Fordham Observer, (Dec. 13, 2022) https://fordhamobserver.com/71413/recent/news/aba-removes-lsat-requirement-for-law-schools/.
[3] Id.
[4] Amanda Dumsch, GRExit- Grad Schools Dropping GRE Requirement, National Institutes of Health, (Sept. 28, 2020) https://oitecareersblog.od.nih.gov/2020/09/28/grexit-grad-schools-dropping-gre-requirement/.
[5] Maggie Kuo, Biomedical Ph.D. Program at Major Research University Drops GRE Requirement for Admission, Science.org, (Aug. 23, 2017) https://www.science.org/content/article/updated-biomedical-phd-program-major-research-university-drops-gre-requirement (last updated Aug. 30, 2017 1:50 PM).
[6] Scott Barolo, University of Michigan Medical School, https://medicine.umich.edu/dept/cdb/scott-barolo (last visited May 10, 2023).
[7] Kuo, supra.
[8] Id.
[9] Id.
[10] Katie Langin, A Wave of Graduate Programs Drops the GRE Application Requirement, Science.org, (May 29, 2019) https://www.science.org/content/article/wave-graduate-programs-drop-gre-application-requirement.
[11] See Joyce E. Cutler, LSAT Optional Law School Admissions Hit Snag with ABA Vote, Bloomberg Law, (Feb. 6, 2023 6:26 PM) https://news.bloomberglaw.com/us-law-week/lsat-optional-law-school-admissions-hit-snag-with-aba-vote (last updated Feb. 6, 2023, 7:53 PM).
[12] Cutler, supra.
[13] Id.
[14] Id.
[15] Sloan, supra.
[16] Cutler, supra.
[17] Jacey Fortin, Do Law Schools Need the LSAT? Here's How to Understand the Debate., N.Y. Times, (sub. req.) (Feb. 17, 2023) https://www.nytimes.com/2023/02/17/us/law-schools-lsat-requirement.html.
[18] Id.
[19] Id.
[20] Id.
[21] Id.
[22] Greig, supra.
[23] See Fortin, supra.
[24] Cutler, supra.
[25] Fortin, supra.
[26] Id.
[27] Id.
[28] Id.
[29] See Id.
[30] Daniel R. Thies, Webber Thies PC, https://www.webberthies.com/attorneys/danthies/ (last visited May 10, 2023).
[31] Sloan, supra.
[32] Id.
[33] Fortin, supra.