By Jacob Schramm, Features Editor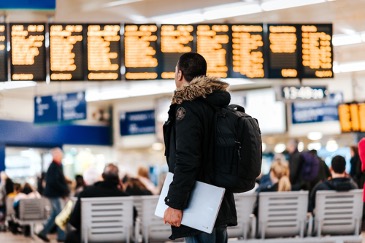 Over the 2022 Christmas holiday, thousands of travelers' flights were cancelled as winter storms ran across the central and eastern United States.[1] The news ran stories about solo travelers and families who spent Christmas in airports, stranded in unfamiliar states without luggage and without certainty that they would reach their intended destinations before New Year's Day.[2]
Between December 24th and 26th, over 11,000 flights were cancelled nationwide, in addition to thousands that were delayed.[3] Although these cancellations affected most major airlines, Southwest faces significant public and legal backlash. The airline cancelled roughly 70 percent of its total flights during the holiday period.[4] While a spokesman for the airline initially blamed the winter storms, an airline analyst said that their network is organized in such a way that "enables higher use of planes during normal times but can cause cascading negative effects when things go wrong."[5]
An affected passenger filed a class action suit on December 30, 2022, in a New Orleans federal court, alleging that Southwest is in breach of contract for failure to reimburse passengers for expenses.[6] In early January, another class action lawsuit was filed in the U.S. Southern District of Texas on behalf of shareholders with Southwest Airlines securities.[7] The latter action names both Southwest's former and current CEOs as well as the current CFO, claiming that they "continuously downplayed or ignored serious issues with technology . . . and how they stood to be affected worse than other airlines in the event of inclement weather."[8] The action complains that the company made materially false and misleading statements by failing to disclose these problems on its quarterly reports, artificially inflating the market.[9] The class seeks damages for federal securities violations under the Securities Exchange Act.[10]
On December 29, 2022, Department of Transportation Secretary Pete Buttegieg issued an open letter to Southwest CEO Robert Jordan. The letter stated that "the thousands of cancellations by Southwest in recent days have not been because of the weather," but were "due to circumstances within the airline's control."[11] He outlined four demands of the airline: (1) to get stranded passengers to their destinations; (2) to provide meals, hotels and ground transportation to them; (3) to refund passengers; and (4) to reunite passengers with their baggage.[12]
The Department of Transportation has since told news outlets that it "is in the initial phase of a rigorous and comprehensive investigation into the Southwest Airlines' holiday debacle that stranded millions and is probing whether the executives engaged in unrealistic scheduling of flights which is considered an unfair and deceptive practice."[13] Democratic Representatives with the House Committee on Transportation and Infrastructure purportedly wrote a letter to Secretary Buttegieg urging him that "refunds and other types of compensation policies quickly become meaningless if there's not a clear mechanism or platform for passenger redress."[14]
Southwest has since created a web portal for those who experienced disrupted holiday travel between December 24th and January 2nd.[15] The portal allows passengers whose flights were "canceled or significantly delayed" to request a refund of the unused ticket to the original form of payment.[16] The portal also allows those impacted to request additional expenses for meals, hotel accommodations, and alternate transportation," though it only promises that the airline will "consider reasonable requests" for reimbursement.[17]
On January 17th, Southwest CEO Robert Jordan addressed what he referred to as "some of the most challenging days in [Southwest's] history," stating that, as of January 9, 2023, the company had returned virtually all bags it had on hand, processed nearly all refunds, and was continuing to process thousands of reimbursement requests per day.[18] He claimed that the company moved swiftly to "put mitigation elements in place to further reduce the risk of future operational disruptions," including enhancing operational staffing efforts and technology to communicate with crew members.[19] Southwest engaged a third-party global aviation consulting firm to assess and recommend mitigation elements, and pledged a budget of over $1 billion to "investments, upgrades, and maintenance" of its IT systems.[20]
It is too early to speculate on the outcome of the litigation, or whether the Department of Transportation will take a more aggressive approach to oversight and regulation. However, the company is signaling an intent to modernize, change, and avoid the possibility of such problems occurring again in the future.
---
[1] https://www.businessinsider.com/thousands-us-flights-canceled-cities-christmas-eve-2022-12.
[2] https://www.nytimes.com/2022/12/26/us/flights-canceled-holiday-travel.html.
[3] https://www.cnn.com/travel/article/travel-delays-christmas-day-2022-winter-storm/index.html.
[4] https://www.nytimes.com/2022/12/26/us/flights-canceled-holiday-travel.html.
[5] Id.
[6] Capdeville v. Southwest Airlines Co., Case 2:22-cv-005590, available at https://www.classaction.org/media/capdeville-v-southwest-airlines-co.pdf.
[7] https://www.businesswire.com/news/home/20230113005316/en/SOUTHWEST-AIRLINES-ALERT-Bragar-Eagel-Squire-P.C.-Announces-that-a-Class-Action-Lawsuit-Has-Been-Filed-Against-Southwest-Airlines-Co.-and-Encourages-Investors-to-Contact-the-Firm.
[8] Teroganesian v. Southwest Airlines Co., Case No. 4:23-cv-115, available at https://www.classaction.org/media/teroganesian-v-southwest-airlines-co-et-al.pdf.
[9] Id.
[10] Id.
[11] https://www.transportation.gov/sites/dot.gov/files/2022-12/Message%20from%20Secretary%20Buttigieg%20to%20Southwest%20Airlines%20CEO%20Bob%20Jordan_12.29.22.pdf.
[12] Id.
[13] https://thehill.com/policy/transportation/3831396-transportation-department-looking-into-whether-unrealistic-scheduling-played-role-in-southwest-holiday-meltdown/#:~:text=%E2%80%9CDOT%20is%20in%20the%20initial,and%20deceptive%20practice%2C%E2%80%9D%20a%20department.
[14] https://www.cnn.com/2023/01/05/business/southwest-buttigieg-democrats/index.html.
[15] https://www.southwest.com/traveldisruption/.
[16] Id.
[17] Id.
[18] https://swamedia.com/releases/release-f30033abc7ead7522c3ea8021c05a20e-an-update-from-southwest-president-ceo-bob-jordan.
[19] Id.
[20] Id.