By Emma Betz, Staff Writer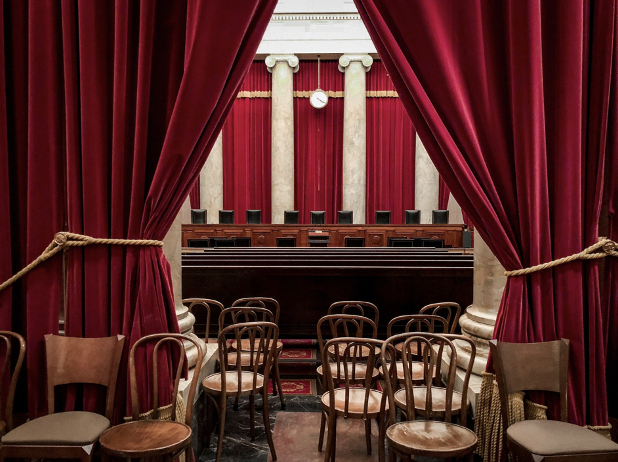 On October 31st, 2022, the Supreme Court of the United States heard oral arguments for an affirmative action case that has recently shed light on college admission processes. The petition for a writ of certiorari was originally granted to Students for Fair Admissions, Inc. v. President & Fellows of Harvard College ("Harvard College") in consolidation with another affirmative action case, Students for Fair Admissions, Inc. v. University of North Carolina.[1] The Court later decided not to consolidate the two cases and allotted time for oral argument on each matter separately.[2]
Counsel in Harvard College presented two issues before eight Supreme Court Justices. Justice Brown Jackson recused herself from the case because of her involvement with Harvard as a former undergraduate and law student, and present member of Harvard's Board of Overseers.[3] The first issue argued was whether the Supreme Court should overrule its decision in Grutter v. Bollinger and hold that institutions of higher education cannot use race as a factor in admissions. The second was whether Harvard College is violating Title VI of the Civil Rights Act of 1964 by discriminating against Asian American applicants and overemphasizing race in its admission process, rather than considering race-neutral alternatives.[4]
In Grutter, the petitioner alleged that Michigan Law School rejected her application based on racial discrimination in violation of the Fourteenth Amendment, Title VI of the Civil Rights Act, and 42 USC § 1981, because it used race as a predominant factor in its admissions process.[5] In a 5-4 decision, the Supreme Court held that the Equal Protection Clause of the Fourteenth Amendment "does not prohibit Michigan Law School's narrowly tailored use of race in admissions decisions to further a compelling interest in obtaining the educational benefits that flow from a diverse student body."[6] Harvard seeks for the Court to uphold this decision, arguing that a diverse student body contributes significantly to the success of its students and the mission of its school.[7]
On the contrary, a nonprofit membership group of more than 20,000 people known as Students for Fair Admissions ("SFFA") believes that racial classifications and preferences in college admissions are unfair, unnecessary, and unconstitutional.[8] SFFA's mission places emphasis on principles of the civil rights movement under the belief that race and ethnicity should not be factors to bolster or hinder a student's admission to a university.[9] Formed to "defend human and civil rights secured by law, including the right of individuals to equal protection under the law," SFFA pursues litigation and other lawful measures to bring attention to college admission processes.[10] In Harvard College, SFFA alleges that Harvard "engages in racial balancing of its undergraduate class; impermissibly uses race as more than a 'plus' factor in admission decisions; considers race in its process despite the existence of workable race-neutral alternatives; and intentionally discriminates against Asian American applicants to Harvard College."[11]
Recently, the First Circuit Court of Appeals affirmed the holding that SFFA has standing to bring its claims, and that "Harvard's race-conscious admissions program does not violate Title VI."[12] Based on legal precedent, universities are permitted to pay "'some attention to numbers' without 'transform[ing] a flexible admissions system into a rigid quota.'"[13] The Court added that Harvard's review calculus cannot be considered impermissibly mechanical because it conducts a holistic consideration of race and does not impermissibly focus on race at any point throughout its admission process.[14]
Regarding SFFA's argument that Harvard College intentionally discriminates against Asian American applicants, both lower courts affirmed that Asian American identity has positively affected an applicant's chance of admission to Harvard and Asian American identity is not always negative in admissions cycles.[15] The courts have held that Harvard's limited use of race in its admissions process achieves diversity "consistent with the requirements of Supreme Court precedent."[16]
After hearing oral arguments from counsel of SFFA and both the University of North Carolina and Harvard College, the Supreme Court is presented with the opportunity to determine the fate of affirmative action in college admissions processes once again.[17]
---
[1] https://www.scotusblog.com/case-files/cases/students-for-fair-admissions-inc-v-president-fellows-of-harvard-college/
[2] Id.
[3] Id.
[4] https://www.scotusblog.com/case-files/cases/students-for-fair-admissions-inc-v-president-fellows-of-harvard-college/
[5] Id. at 317.
[6] Id. at 343.
[7] https://www.scotusblog.com/2022/10/in-cases-challenging-affirmative-action-court-will-confront-wide-ranging-arguments-on-history-diversity-and-the-role-of-race-in-america/
[8] https://studentsforfairadmissions.org
[9] Id.
[10] Students for Fair Admissions, Inc. at 164.
[11] Id. at 163.
[12] Id. at 164.
[13] Grutter, 539 US at 336, quoting Regents of University of California v. Bakke, 438 US 265, 323 (1978).
[14] Students for Fair Admissions, Inc. at 192.
[15] Id. at 203.
[16] Id. at 204.
[17] https://www.supremecourt.gov/oral_arguments/daycall/DayCall_10-31-22.pdf