By Grace Ruane, Staff Writer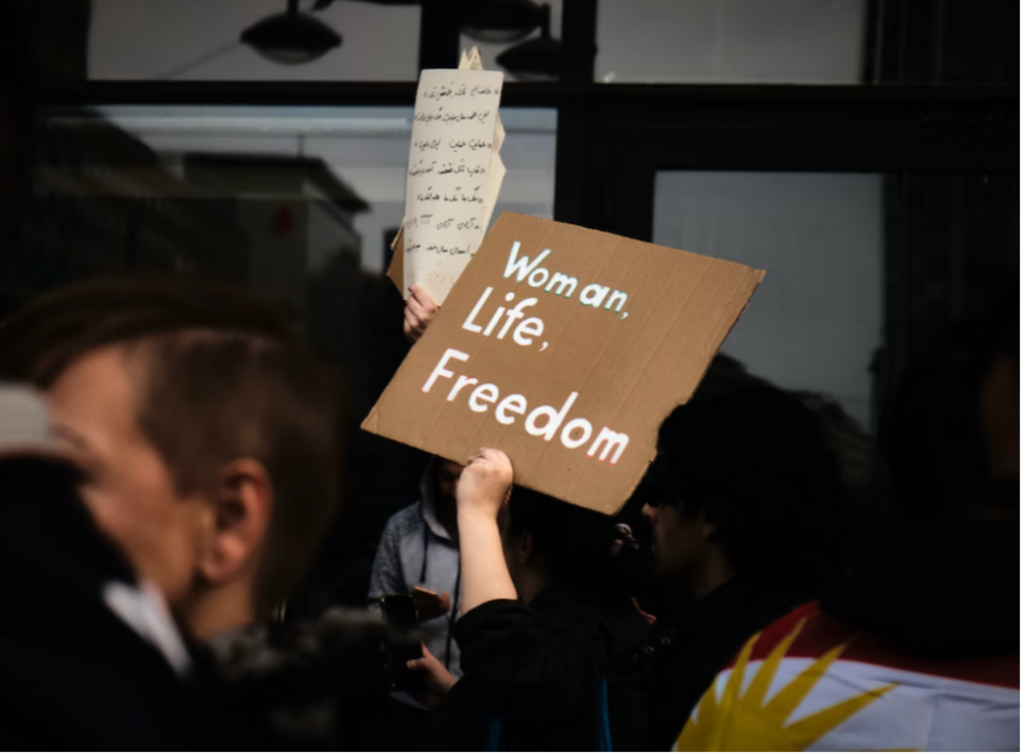 On September 13, 2022, Amini traveled alongside her family to visit her uncle in Tehran. Upon exiting the train station, Amini was apprehended by the Iranian morality police, a force tasked with detaining Iranians who violate the country's conservative dress code. She was then transported to a morality re-education center and pronounced dead three days later.[1]
Iranian authorities initially alleged Amini died as a result of cardiac arrest.[2] However, evidence suggests her death resulted from brutal beatings she suffered at the hands of morality police officers while detained. On Thursday, September 29, a former Islamic Revolutionary Guard Corps commander, Mohammad-Bagher Bakhtiar, quoted reliable sources revealing that Amini had died due to a "blow to her skull."[3]
Additionally, Bakhitar's sources revealed that Amini showed evidence of internal bleeding and significant damage to her spleen. Efforts made by Tehran's Kasra Hospital staff to stabilize Amini failed, as the injuries to her skull caused her to fall into a coma and tragically succumb to her injuries.[4]
Unfortunately, Mahsa Amini is not the only Iranian woman to suffer at the hands of the morality police, and without social change, she will not be the last. According to Tara Sepehri Far, a senior researcher in the Middle East and North Africa division at Human Rights Watch, "'It would be hard to find an average Iranian woman or an average family who does not have a story of interaction with the morality police. That is how present they are.'"[5]
In response to Amini's tragic death, Iranian women continue to risk their lives by organizing spirited protests against the institutionalized misogyny that runs rampant in Iranian law, which is "filled with a hysterical enmity towards women, in education, clothing and covering, marriage, divorce, inheritance, and in the segregation of buses and workplaces."[6]
In addition to organizing in the streets of Iran, women have taken to social media to ensure their cries for justice be heard within their country and across the globe. Platforms such as TikTok and Instagram have erupted with emotional footage of Iranian women gathering in the streets of Iran to burn their hijabs, cut their hair, and support one another as they demand justice not only for Mahsa Amini but for Iranian women as a whole.[7] Hashtags like "#womenprotest" and "#womenfightingback" are trending, igniting a wildfire of global discourse on Amini's death, and what it means for the future of women's rights in Iran.
On Wednesday, September 21, 2022, Iran limited access to Instagram and WhatsApp, two of the last remaining social networks in the country.[8] By limiting access to these gargantuan social media platforms, Iranian officials seek to silence Iranian protestors as much as possible. According to Shaghayegh Norouzi, an Iranian campaigner against gender-based violence, "platforms like Instagram became the virtual street, where we can gather together to protest because it was not possible to do that in real life."[9] According to Norouzi, "during the last protest, the government cut off internet for days at a time. During that time, protestors were killed and arrested."[10] As of September 29, 2022, 83 people including children are confirmed to have been killed in the midst of these protests.[11] Nevertheless, Iranian women persist in their pursuit to end gender-based violence in their country once and for all.
As the story continues to develop, one thing is for certain: a feminist revolution is brewing in the streets of Iran; and the resilient, strained voices of Iranian women will be heard.
---
[1] The Jerusalem Post, Who Was Mahsa Amini, Whose Death Sparked Iran Protests?, https://www.jpost.com/middle-east/iran-news/article-718359, (last visited October 2, 2022).
[2] Id.
[3] Iran International, Ex-IRGC Officer Releases More Evidence About Mahsa Amini's Murder, https://www.iranintl.com/en/202209293255, (last visited October 2, 2022).
[4] Id.
[5] CNN, Iran's Morality Police Have Terrorized Women for Decades. Who Are They?, https://www.cnn.com/2022/09/21/middleeast/iran-morality-police-mime-intl/index.html, (last visited October 2, 2022).
[6] NCRI Women Committee, Institutionalized Misogyny in the laws of mullah's regime ruling Iran, https://women.ncr-iran.org/2020/06/09/institutionalized-misogyny-in-the-laws-of-the-mullahs-regime-ruling-iran/, (last visited October 2, 2022).
[7] Insider, Muslim women are taking off their headscarves and cutting their hair on TikTok to protest Iran's hijab rules following the death of 22-year old Mahsa Amini, https://www.insider.com/iranian-women-cut-hair-tiktok-protest-death-mahsa-amini-2022-9, (last visited October 2, 2022).
[8] Thomas Reuters, As unrest grows, Iran restricts access to Instagram, WhatsApp, https://www.reuters.com/world/middle-east/iran-restricts-access-instagram-netblocks-2022-09-21/, (last visited October, 2, 2022).
[9] The Guardian, Iran block's capital's internet access as Amini protests grow, https://www.theguardian.com/world/2022/sep/22/iran-blocks-capitals-internet-access-as-amini-protests-grow, (last visited October 2, 2022).
[10] Id.
[11] Thomas Reuters, Iran protests over young woman's death continue, human-rights group says at least 83 people killed, https://www.reuters.com/world/middle-east/iran-protests-over-young-womans-death-continue-83-said-killed-2022-09-29/, (last visited October 2, 2022).