By Jack Bradley, Staff Writer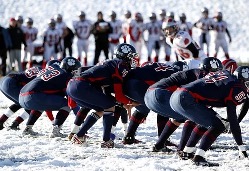 The summer of 2021 may be considered one of the most significant turning points in the history of amateur athletics, as it was the start of a new policy allowing collegiate athletes to profit from their name, image, and likeness ("NIL").[1] Since its inception, the NCAA has prevented players from profiting off NIL, citing the importance of amateurism. The entire landscape of the NCAA's amateurism principle shifted quickly after one landmark case, NCAA v. Alston, which ruled that the NCAA restriction on non-cash, education-related benefits was a violation of the Sherman Act.[2] Shortly after the court's decision, the NCAA voted to allow student athletes to earn income from the use of their NIL.[3] NIL has been welcomed by many college athletes who are now able to profit from their fame. While the spotlight has mainly been on collegiate athletics, the NCAA's new policies have also had enormous ramifications for high school athletics throughout the United States.
Prior to this shift in NIL policy, the NCAA strictly barred student athletes from profiting. While this was important to college athletes, it also created a buffer for high schools, as athletes were aware that they would not be NCAA eligible if they profited from their likeness or had future contracts with agents or corporations. With the adoption of the NIL policy, state athlete associations and school boards now have the power to determine whether a high school student can sign an NIL-style deal. Each state legislature has had the ability to draft their own statutory rules pertaining to whether and how student athletes can profit off NIL.[4] Seventeen states currently permit NIL deals for high school students, though Pennsylvania, Ohio and West Virginia currently remain among the states that do not allow NIL for high school athletes.[5]
While NIL deals for high school students offer a great opportunity for athletes to be compensated, there are clear and obvious dangers in adolescents making large life decisions without the necessary support system. Money going toward athletes is not necessarily a bad thing since, according to National College Players Association (NCPA), 86% of collegiate athletes fall below the poverty line.[6] Studies on the socioeconomic status of high school athletes has not researched as thoroughly but it can be inferred that there is some correlation.
For NIL to function successfully and safely within high school athletics, there must be adequate oversight. Every school within the NCAA has at least one person who strictly deals with compliance in ensuring that the team and players are following state, federal, and NCAA guidelines.[7] While these rules can be looked at as inhibiting athletes, their stated purpose is to protect players. When dealing with NIL in the high school realm, most school boards or individual schools will likely not have the resources to give its student athletes sufficient support.[8]
Without sufficient funding of advisory programs, highly visible high school athletes can be taken advantage of and potentially lose NCAA eligibility. Some high school athletes are highly valuable despite being at an early stage in their career. For instance, Lebron James's son, Bronny James, has a reported NIL value upwards of $6 million.[9] Landing a "Lebron-esque" athlete could bring a corporation a significant return on investment.
Under the new NIL structure, gifted high school athletes will have the opportunity to receive a deal in high school that at the time may seem appealing but could leave them in a contract that significantly undervalues them or hurts their future eligibility. In the past, it has been uncovered that corporations will do anything to land these athletes. For example, two Adidas executives participated in an alleged corruption scheme that involved high school athletes being paid to attend Adidas-sponsored universities.[10]
Given the history of the amateur athlete industry, there are major concerns about NIL's effect within high schools, specifically with young athletes being manipulated in a way that undermines their future success.
---
[1] https://www.ncaa.org/news/2021/6/30/ncaa-adopts-interim-name-image-and-likeness-policy.aspx
[2] NCAA v. Alston, 141 S. Ct. 1043 (U.S. 2021)
[3] https://www.ncaa.org/sports/2021/2/8/about-taking-action.aspx
[4] https://businessofcollegesports.com/high-school-nil/
[5] Id.
[6] https://www.ncpanow.org/research/study-the-price-of-poverty-in-big-time-college-sport
[7] http://fs.ncaa.org/Docs/eligibility_center/Student_Resources/CBSA.pdf
[8] https://coachad.com/articles/how-decrease-funding-is-affecting-schools-nationwide/
[9] https://www.knoxnews.com/story/sports/high-school/2022/07/24/arch-manning-nil-high-school-athletes-lhsaa-tssaa/9884548002/
[10] https://www.justice.gov/usao-sdny/pr/adidas-executive-and-two-others-convicted-defrauding-adidas-sponsored-universities