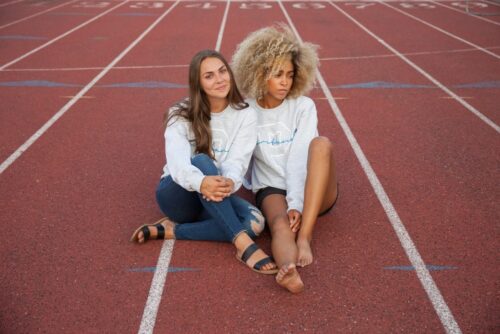 Photo Provided Courtesy of Unsplash.com
By Falco Anthony Muscante II, Staff Writer
Background & The Equality Act
Only one in 27 girls participated in sports prior to the passage of Title IX of the Education Amendments of 1972 [Title IX], which states that, "No person in the United States shall, on the basis of sex, be excluded from participation in, be denied the benefits of, or be subjected to discrimination under any education program or activity receiving Federal financial assistance." [1]
No doubt, Title IX is widely recognized as one of the most important civil rights laws in our country. Athletic programs in approximately 16,500 local school districts and 7,000 postsecondary institutions fall within the scope of Title IX, which guarantees female athletes in federally-funded educational institutions the right to equal opportunities in sports. [2] This civil rights law has been largely effective. As of 2016, two in five girls participate in sports, and since 1972, there has been a "'545% increase in the percentage of women playing college sports and a 990% increase in the percentage of women playing high school sport[s].'" [3]
Recently, the Supreme Court of the United States broadened the protections under Title VII of the Civil Rights Act, which applies to places of employment, by judicially redefining "sex" to include "gender identity" and "sexual orientation." [4] Now, the legislature is considering a similar redefinition of "sex" in Title IX through H.R.5, or the Equality Act of 2021 [Equality Act], which was reintroduced in Congress to a Democrat-controlled House and Senate in February of this year.
The Equality Act is a piece of legislation that would amend the Civil Rights Act of 1964 to codify the Supreme Court's decision in Bostock v. Clayton County. The Act would extend the Bostock ruling to apply to more than just employment and housing situations; it would also include federally-funded programs like schools and "public accommodations" such as retail stores and stadiums. [5] Further, the Equality Act would prohibit the Religious Freedom Restoration Act of 1993—which bars the government from "substantially burden[ing] a person's exercise of religion even if the burden results from a rule of general applicability"—from providing any claims, defenses, or bases for challenging the application of provisions of the Equality Act. [6]
President Joe Biden has expressed support of the Equality Act and its implementation of Bostock since his first day in office. [7] The legislation was first introduced in 2019. At the time of publication, the House of Representatives voted largely along partisan lines on February 25, 2021 to pass the Equality Act. All Democrats and only three Republicans supported the Bill. The Senate held its first hearing regarding the legislation on March 24, 2021. It will need the support of ten Republican senators in addition to all Democratic senators to move on to the President's desk.
Unintended Consequences
It is universal among individuals, both who oppose and support the Equality Act, that every person should be treated with dignity, respect, and not face discrimination. [8] While on its face, the Equality Act purports "[t]o prohibit discrimination on the basis of sex, gender identity, and sexual orientation," many have concerns that the current draft would typify the law of unintended consequences and harm those whom Title IX was originally intended to protect: women. Even supporters of the Bill take issue with sections specifically referencing application to Title IX.
Martina Navratilova, a bisexual Czechoslovakian-born American, former professional tennis player, and tennis coach, wrote an article with two other women in support of the Equality Act but urged lawmakers not to abandon Title IX. They emphasized that Title IX, "not only permits but often requires educational institutions that receive federal money to provide separate programs and opportunities for females based on sex." [9] As they write, "sex segregation is the only way to achieve equality for girls and women in competitive athletics," because according to research they cite, when "male- and female-bodied athletes [are put] together [it] is co-ed or open sport. And in open sport, females lose." [10] Studies have shown that male-bodied athletes—who have on average more muscle mass, stronger bones, larger hearts, and larger lungs than female-bodied athletes—even after beginning female hormonal therapy, have an advantage over female-bodied athletes when competing co-ed. [11]
All athletes desire to participate in school sports "to find a sense of belonging and social engagement, to be a part of a team, and to challenge themselves," which Navratilova and her co-authors recognize. However, they note that the proposed Title IX changes under the Equality Act are unnecessary because male-bodied transgender athletes who have not physically transitioned are included without condition in the male category, and those who have spent a year on hormonal treatment, as is the current medical standard of care, are permitted to compete in the female category. [12]
If the Equality Act changes this current practice by pragmatically instituting co-ed athletics universally in America, female athletes may lose more than just high school athletic records, titles, and wins. Global research from EY and ESPNW shows that 94% of women working in C-suites played sports in high school, and 52% of those women played after high school in college. [13] During testimony before the U.S. Senate in March of this year, Abigail Shrier, a writer for the Wall Street Journal with degrees from Columbia College, Oxford University, and Yale Law School, testified, "[the Equality Act] applies a wrecking ball to female sports by insisting that any male who . . . claims to be female for any amount of time in his senior year, perhaps when he's eyeing college scholarships, has a full legal entitlement to walk onto the first [women's] team and take [one] of those [scholarships]." [14] Some proponents of the Equality Act affirmatively accept this consequence, "that it's time to shift our focus from supporting female-bodied athletes for whom Title IX has already done a lot of work, to supporting transgender women and girls who need our help more." [15]
Some of these unintended consequences for high school female athletes are already playing out at the state level where several states and localities have recognized policies the federal Equality Act would legislatively enshrine. For example, in Connecticut, four high school girls have filed a lawsuit against the Connecticut Interscholastic Athletic Conference [CIAC], which changed its policy in 2017 to allow male-bodied athletes identifying as females to compete on the girls' athletic teams. Since that change was effectuated, two male-bodied athletes have won 15 women's track championship titles, and females have lost over 85 opportunities to participate in higher levels of competition since 2019. [16] One of the named plaintiffs of the case, Chelsea Mitchell, wrote of her experience with the new policy:
[N]ot advancing, not medaling, not being named All-New England. And, eventually, not being the State Champion. Four times I lost the State Champion title to a male athlete. Sure, I told myself I was the fastest girl there. But college scouts don't care about my internal consolations. They care about times, rankings, and final results. [17]
The Equality Act, particularly its amendments to Title IX of the Civil Rights Act, would ubiquitously implement the principles of law expressed in Bostock and the policies the CIAC has already adopted if it becomes law. Now a senior in high school, Mitchell writes, "Every boy on the podium means one fewer girl on the podium. And girls like myself aren't losing just the opportunity to win, and the life lessons of fair competition, but opportunities to earn college scholarships and launch our own athletic careers beyond high school." [18] These concerns will certainly continue to be raised during the Senate approval process, but it is uncertain whether they will translate to a change in the Equality Act's current ostensible application to Title IX.
[1] Women's Sports Foundation [WSF], Title IX and the Rise of Female Athletes in America (Sept. 2, 2016), https://www.womenssportsfoundation.org/education/title-ix-and-the-rise-of-female-athletes-in-america/ (quoting 20 U.S.C.S. § 1681 (Lexis through Jan. 13, 2021)).
[2] U.S. Department of Education, Title IX and Sex Discrimination (Apr. 2015), https://www2.ed.gov/about/offices/list/ocr/docs/tix_dis.html.
[3] WSF, supra note 1 (quoting Beth A. Brooke-Marciniak & Donna de Varona, Amazing things happen when you give female athletes the same funding as men, World Economic Forum (Aug. 25, 2016), https://www.weforum.org/agenda/2016/08/sustaining-the-olympic-legacy-women-sports-and-public-policy/.
[4] See Bostock v. Clayton Cnty., 140 S. Ct. 1731 (2020).
[5] Danielle Kurtzleben, House Passes The Equality Act: Here's What It Would Do, npr (Feb. 24, 2021), https://www.npr.org/2021/02/24/969591569/house-to-vote-on-equality-act-heres-what-the-law-would-do.
[6] Equality Act, H.R.5, 116th Cong. § 9 (2019); Religious Freedom Restoration Act of 1993, Pub. L. No. 103-141, § 107 Stat. 1488.
[7] The White House, Statement by President Joseph R. Biden, Jr. on the Introduction of the Equality Act in Congress (Feb. 19, 2021), https://www.whitehouse.gov/briefing-room/statements-releases/2021/02/19/statement-by-president-joseph-r-biden-jr-on-the-introduction-of-the-equality-act-in-congress/.
[8] See The Heritage Foundation, 11 Myths About H.R. 5, the Equality Act of 2021 (Feb. 24, 2021), https://www.heritage.org/gender/report/11-myths-about-hr-5-the-equality-act-2021; Doriane Coleman, Martina Navratilova, & Sanya Richards-Ross, Opinion: Pass the Equality Act, but don't abandon Title IX, The Washington Post (Apr. 29, 2019), https://www.washingtonpost.com/opinions/pass-the-equality-act-but-dont-abandon-title-ix/2019/04/29/2dae7e58-65ed-11e9-a1b6-b29b90efa879_story.html
[9] Id.
[10] Id.
[11] Frank Mir and Terry Schilling, Not a fair fight: Our athlete daughters shouldn't have to compete with transgender women, USA Today (Feb. 25, 2021), https://www.usatoday.com/story/opinion/2021/02/25/transgender-women-unfair-playing-field-for-girls-column/6813749002/.
[12] American Civil Liberties Union, The Coordinated Attack on Trans Student Athletes (Feb. 26, 2021), https://www.aclu.org/news/lgbt-rights/the-coordinated-attack-on-trans-student-athletes/; Coleman, Navratilova, & Richards-Ross, supra note 6.
[13] Emilie Kao, Congress Is Set to Pass an "Equality Act" That Will Devastate Women's Sports, The Heritage Foundation (May 16, 2019), https://www.heritage.org/gender/commentary/congress-set-pass-equality-act-will-devastate-womens-sports; Monica Miller, 4 female C-Suite executives who played college sports, NCAA (Mar. 8, 2018), https://www.ncaa.org/student-athletes/former-student-athlete/4-female-c-suite-executives-who-played-college-sports#:~:text=According%20to%20a%20global%20EY,sports%20at%20the%20university%20level.
[14] Trish Turner, Equality Act that would bar LGBTQ, gender identity discrimination faces uphill battle in Senate, ABC News (Mar. 17, 2021), https://abcnews.go.com/Politics/equality-act-bar-lgbtq-gender-identity-discrimination-faces/story?id=76515120.
[15] Id. (citing House Committee on the Judiciary, Hearings: H.R.5, the "Equality Act," (Apr. 2, 2019), https://judiciary.house.gov/calendar/eventsingle.aspx?EventID=1815.
[16] Alliance Defending Freedom, Fairness in Women's Sports: Connecticut (Feb. 2021), https://adflegal.org/sites/default/files/2021-02/Soule%20v.%20Connecticut%20Association%20of%20Schools%20-%20One%20Page%20Summary.pdf.
[17] Chelsea Mitchell, I Oppose the "Equality Act" Because It Threatens Women's Sports (Mar. 17, 2021), https://adflegal.org/blog/i-oppose-equality-act-because-it-threatens-womens-sports.
[18] Id.