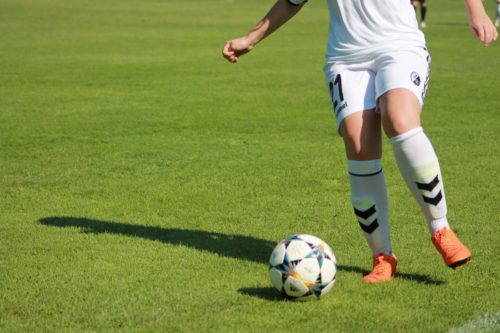 By Antonia Gelorme, Staff Writer
Transgender rights have been at the forefront of the court of public opinion in 2021, as well as federal, judicial, and state legislature actions. From the Bostock decision affirming transgender employment rights to President Biden's Executive Order preventing and combatting discrimination on the basis of gender identity, the country as a whole has made strides to recognize protections for its transgender citizens. [1]
Though President Biden has declared that "all persons should receive equal treatment under the law, no matter their gender identity," twenty-six states have introduced bills that prohibit transgender female students from playing in public elementary, high school, and collegiate sports leagues. [2] The proponents of such bills believe such legislation is necessary to promote sex equality and maintain fair playing conditions for girls and women participating in sports.
Last year, Idaho was the only state successful in passing a bill that prohibits transgender students' participation in sports, titled the "Fairness in Women's Sports Act." [3] The Act focuses on the the biological difference between male and female physiology, specifically the higher levels of testosterone in males, which results in men being able to generate higher speed and power during physical activity. [4] Referencing a recent study on how puberty blockers and hormone treatments affect transgender female athletes, the Idaho legislature states that transgender athletes still maintain absolute advantage over cisgender female athletes. [5] The Act, which provided a template for other states introducing bills in 2021, concludes that the state has an interest in ensuring fairness for young women in these sports leagues.
In August 2020, five months after the bill was signed into law, Judge David Nye of the Idaho District Court granted a motion for a preliminary injunction against the Act. [6] In his decision, Judge Nye held that enforcement of the Act would subject women and girls to unequal treatment, exclude some from participating in sports at all, incentivize harassment and exclusionary behavior, and authorize invasive and traumatic bodily examinations. [7]
Opponents of the current bills mirror Judge Nye's concerns, and are fearful of the repercussions that could result from implementing legislation that emphasizes "biological sex" and works to isolate children and young people based on their gender identity.
Legally reducing male and female identities down to the biological makeup of an individual's body has already presented issues with cisgender female athletes, the very group state legislatures are attempting to protect. In May 2019, the Court of Arbitration for Sport held that female runners with high testosterone levels will be required to take medication to reduce their levels of the hormone if they want to compete in certain events. [8] The ruling disproportionately affected non-white female athletes worldwide, who were in fact assigned female at birth, and forced them to choose between retirement from the sport or possibly harmful medical treatments. [9]
Chase Strangio, Deputy Director for Transgender Justice with the ACLU's LGBT & HIV Project, frames the bills as a targeted attack against transgender youth that will endanger the lives of those already struggling to find acceptance and stability. [10] Transgender youth are nearly four times more likely to experience depression than their cisgender peers. [11] A third of transgender youth have seriously considered suicide and one in five has made a suicide attempt. [12] Without gender affirming activities, such as the ability to participate in groups sports with those of their own gender identity, Strangio fears that transgender youth will face increasing dysphoria and heightened mental health challenges.
Despite the contentious debate surrounding the passage of these bills, the Mississippi legislature became the first state in 2021 to pass a ban on transgender girls' participation in female sports leagues. [13] Governor Tate Reeves indicated on Twitter that he would sign the bill. [14]
[1] https://www.whitehouse.gov/briefing-room/presidential-actions/2021/01/20/executive-order-preventing-and-combating-discrimination-on-basis-of-gender-identity-or-sexual-orientation/
[2] https://www.aclu.org/legislation-affecting-lgbt-rights-across-country
[3] Idaho Code § 33-6202 (2021).
[4] Id. at 1
[5] Id. at 2
[6] https://www.cnn.com/2020/08/18/us/idaho-transgender-athletes-ban-blocked/index.html
[7] Hecox v. Little, 2020 U.S. Dist. LEXIS 149442, 108 (D. Idaho Aug. 17, 2020).
[8] https://apnews.com/article/543c78d943144874a661f31e88c1f8e6
[9] Id.
[10] https://www.facebook.com/watch/live/?v=274774330677469&ref=watch_permalink
[11] https://suicidepreventionlifeline.org/wp-content/uploads/2017/07/LGBTQ_MentalHealth_OnePager.pdf
[12] Id.
[13] https://www.cnn.com/2021/03/03/politics/mississippi-transgender-athletes-bill/index.html
[14] Id.