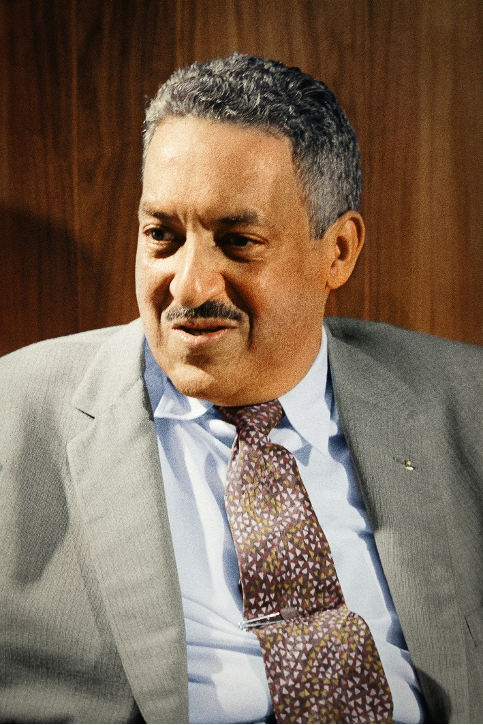 Photo by Unseen Histories on Unsplash
By Sam Cook, Staff Writer
As we close out Black History Month, I wanted to take a moment to spotlight a few of the Black lawyers, scholars, and jurists who have not only made a mark on American legal history, but also who have inspired me personally. By no means is this list exhaustive, but merely a brief – and admittedly insufficient – review of some of America's most influential Black legal icons.
Thurgood Marshall
Thurgood Marshall was the first Black Supreme Court justice. While this feat alone warrants celebration and praise, Marshall's career before being appointed to the Supreme Court so heavily influenced the Civil Rights legal movement that many of the landmark cases shaping our constitutional law can be directly attributed to Marshall's work with the NAACP.
Marshall became director-counsel of the NAACP's Legal Defense and Education Fund, [1] during which time he regularly argued civil rights cases in front of the Supreme Court.  Marshall's mentor was Charles Hamilton Houston, the architect of the legal strategy to desegregate schools. [2]
Among Marshall's most notable cases was Brown v. Board of Education, where he led a successful Equal Protection challenge to public school segregation. This legal success changed the Fourteenth Amendment forever and began the long and arduous process of nationwide integration. Another important legal advancement in housing equality was Shelley v. Kraemer, a case challenging the use of restrictive deed covenants for discriminatory purposes, which Marshall also argued in front of the Supreme Court. Marshall's leadership in this campaign shaped constitutional jurisprudence one landmark case at a time. [3]
Justice Marshall served on the United States Supreme court from 1967 to 1991, and during those years, he fought for individual rights, opposed the death penalty, and supported criminal justice and prison reform. [4]
Eleanor Holmes Norton
Eleanor Holmes Norton is currently the non-voting delegate to the U.S. Congress for the District of Columbia. While D.C.'s representative does not have the right to vote in Congress, Norton nonetheless represents the District's interests in Congress, which otherwise has no representation in Congress – a cause that Norton has fought for much of her career.
Like Marshall, Norton's public service career has been significant, but her legal career before being elected as a delegate to Congress deserves recognition as well.
Norton served as the American Civil Liberties Union assistant legal director, where she litigated several landmark First Amendment cases. Like the NAACP, the ACLU pursued a campaign of cases to shape First Amendment jurisprudence and expand civil liberties.
One of the most fascinating cases Norton worked on was Brandenburg v. Ohio. In Brandenburg, Norton represented Ku Klux Klan member Charles Brandenburg, challenging his anti-syndicalism conviction on the grounds of the First Amendment. Norton's perspective transcended the identity politics of the era. Despite the unpopularity of the case because of the unsympathetic petitioner, Norton understood that by representing people with opposing – if not hostile – viewpoints, she could truly test the strength of the First Amendment and protect free speech for generations to come. In 1997, she commented, "You seldom get to defend the First Amendment by defending people you like … You don't know whether the First Amendment is alive and well until it is tested by people with despicable ideas." [5]
Norton served as the Chairman of the EEOC from 1977 to 1981, taught law at the Georgetown University Law Center, and has been serving in the U.S. House of Representatives since 1991. [6]
Kimberlé Crenshaw
Kimberlé Crenshaw is an influential legal scholar in the Critical Race Theory school. Among Crenshaw's many innovative legal theories, one of her most notable advancements is the development of the concept of intersectionality. In her writings, Crenshaw describes how traditional notions of race and gender in the law tend to "ignore intragroup differences." [7]
Crenshaw illustrates this point with the issue of domestic violence. She studied women's shelters in Los Angeles's minority communities and noted that for many women, physical assault was "merely the most immediate manifestation of the subordination they experience." [8] Many of the women in the shelter also faced poverty, racial discrimination in housing and employment, and a lack of financial support from family and friends. [9] Merely attributing the presence of these women in a shelter to gender oppression is insufficient. In other words, Crenshaw's argument is that a legal solution to domestic violence that does not take into account gender, sexuality, race, ethnicity, and class, is really no solution at all.
If intersectionality now seems like a common-sense concept, it is because Crenshaw's work has become deeply ingrained in our cultural conversation that she is now the most cited female legal scholar in this history of legal research. [10] Crenshaw's work has informed the work of a generation of activists and has formed the basis of decades of research into race, gender, and the law.
Bryan Stevenson
For every nine people executed, one person has been exonerated from death row. [11]
Bryan Stevenson has been in the spotlight since his publication of Just Mercy, which was adapted into a popular film. Stevenson is a renowned scholar and attorney, who began his career after graduating from Harvard Law School operating a death penalty defense clinic in Alabama. [12] Stevenson's experience working on death row cases taught him about the injustices inherent in the death penalty. His organization, the Equal Justice Initiative (EJI), provides legal assistance to clients who have been sentenced to the death penalty. [13]
EJI's scope extends beyond death penalty legal defense. Stevenson acknowledged that this type of legal defense is insufficient to solve the greater problem of injustice in America. Stevenson's research draws a link between America's history of terror lynching and the modern death penalty, finding them morally and functionally comparable, both deeply rooted in racism. [14]
Stevenson and EJI now seek to address widespread racial injustices through research and litigation, as well as many initiatives to provide public education through books, movies, reports, and other programs. [15]
Conclusion
As important as it is to recognize the groundbreaking and trailblazing Black lawyers and activists who have advanced civil rights and shaped America's legal history, it is equally important to recognize that Black history is not over, and our celebration of these figures cannot be relegated to the past. We are surrounded by Black lawyers and scholars who are making history right now. As Black History Month comes to an end, let's continue to recognize and support the work of racial justice that is still to be done. [16]
[1] Derrick A. Bell, Serving Two Masters: Integration Ideals and Client Interests in School Desegregation Litigation, 85 Yale L.J. (1976).
[2] https://www.naacp.org/naacp-history-charles-hamilton-houston/
[3] Bell, supra note 1.
[4] https://www.naacpldf.org/about-us/history/thurgood-marshall/
[5] https://www.seattletimes.com/opinion/hate-speech-is-vile-and-protected/
[6] https://ballotpedia.org/Eleanor_Holmes_Norton
[7] Kimberlé Williams Crenshaw, Mapping the Margins: Intersectionality, Identity Politics, and Violence Against Women of Color, Stanford L.R., 1991.
[8] Id.
[9] Id.
[10] https://www.brookings.edu/experts/kimberle-w-crenshaw/
[11] https://eji.org/issues/death-penalty/
[12] https://www.newyorker.com/magazine/2016/08/22/bryan-stevenson-and-the-legacy-of-lynching
[13] https://eji.org/issues/death-penalty/
[14] https://eji.org/wp-content/uploads/2020/09/lynching-in-america-3d-ed-091620.pdf
[15] https://eji.org/public-education/
[16] I regret the summary treatment I had to provide to these figures in this short blog post, as their achievements can – and have – filled volumes, but my goal was to provide an overview of some of the interesting and inspiring Black lawyers who have shaped my understanding of the law and inspired me to look at the law as a living and changing body rather than an immutable monolith.