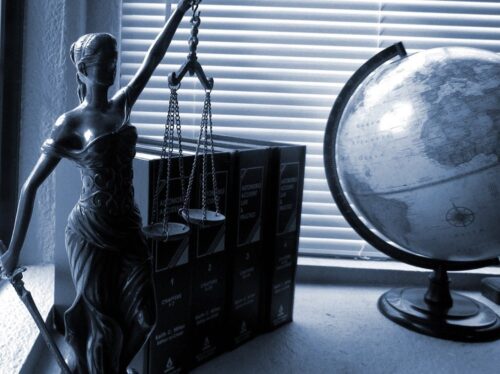 Photo provided courtesy of Pixabay.com.
By Rachel Presssdee, Staff Writer
The Supreme Court of Pennsylvania has added a new subsection to an important part of the Rules of Professional Conduct.  This addition prohibits harassment and discrimination in the practice of law. [1]   Per this new rule, when conducting activities related to the practice of law, it is "professional misconduct for a lawyer to engage in conduct that the lawyer knows or reasonably should know is harassment or discrimination, on the basis of race, sex, religion, national origin, ethnicity, disability, age, sexual orientation, gender identity, marital status or socioeconomic status". [2]
The origin and development of the amendment evolved from the American Bar Association's (ABA) adoption of the new Model Rule of Professional Conduct 8.4(g). [3]   "The ABA deemed it in the public's interest and the profession's interest to make clear that discrimination, harassment, bias and prejudice do not belong in conduct related to the practice of law." [4]
Twenty-five other jurisdictions adopted the anti-discrimination provision into their rules of professional conduct prior to Pennsylvania. [5]   Historically, if state precedent or policy considerations do not justify deviating from the ABA's Model Rule language, Pennsylvania has supported the adoption of amendments. [6]   This is to promote consistency in application and rule interpretation from one jurisdiction to the next. [7]
The Pennsylvania Bar Association (PBA) formalized support for the amendment back in November 2016, and have requested that the Supreme Court rule on such an addition. [8]   David E. Schwager, PBA president, said "[w]e thank the Supreme Court for approving this much-needed rule that is consistent with the PBA's longstanding policies." [9]
However, not everyone is thankful.  One Philadelphia attorney alleges the amendment conflicts with First Amendment free speech protections. [10]   Zachary Greenberg fears the new rule will force him to stop advocating for certain positions or face disciplinary action. [11] During his work for the Foundation for Individual Rights in Education, Greenberg frequently speaks on topics such as due process protections for college students accused of sexual misconduct and banning hate speech on campus. [12]   He often uses examples that he is worried may be interpreted as manifesting bias. [13]
Schwager stated that he does not anticipate the disciplinary board would find grounds to bring claims against an attorney who is conducting good-faith advocacy, even when it involves controversial topics, such as the ones Greenberg speaks about. [14]   "I didn't see anything in the four corner[s] of the complaint that led me to believe there was anything about the rule as promulgated by the disciplinary board and put into place by the Supreme Court that would cause his argument to have any merit," he said. [15]
The ABA faced similar criticism when adopting Rule 8.4(g) of the ABA's Model Rules. [16] Opponents described the amendment as overbroad and worried that it would threaten a lawyer's ability to zealously represent clients. [17]   The ABA defended the rule stating it "does not prevent a lawyer from freely expressing opinions and ideas on matters of public concern." [18]   "The fact that others may personally disagree with or be offended by a lawyer's expression does not establish a violation." [19]
Looking at cases in other jurisdictions where this Rule has been applied can be illustrative.  The Supreme Court of Colorado found that an attorney violated Rule 8.4(g) when he referred to a female judge by a derogatory term used for female genitalia in the courthouse setting. [20]   The Court found that his words did not advance the client's cause and that his insulting language served no purpose other than to demean and degrade a female judge based upon her gender. [21]
The Supreme Court of Wisconsin suspended an attorney for her misconduct for making frivolous and discriminatory statements in numerous court documents. [22]   The Court held that she violated Rule 8.4(g) by making unfounded, scurrilous, vilifying statements and religious slurs directed against the courts, judges, other counsel, appointed officers, and third parties. [23]
Rule 8.4(g) "assures that the legal profession functions for all participants, including vulnerable groups, such as racial and sexual minorities and persons with disabilities. Inclusion and accountability, rather than exclusion and immunity, are the core values the Rule seeks to protect." [24]   No legal professional has a right, under the constitution or statute, to harass witnesses, clients, judges, or colleagues on the basis of a protected trait. [25]   Nor is any lawyer exempt from laws or ethics.  He or she must face professional discipline for harassment and discrimination, just as he or she would face for other unlawful acts taken during the practice of law. [26]
The ABA found it "important to highlight for the entire legal profession that discriminating and harassing conduct is wrong and that lawyers should not engage in it, as it reflects poorly on the legal profession." [27]   And Pennsylvania has followed suit, Rule 8.4(g) is set to take effect on December 8, 2020. [28]
[1] https://www.pabar.org/site/News-and-Publications/News/News-Releases/2020/June/Pa-Supreme-Court-Adopts-PBA-supported-Rule.
[2] 46 Pa. Bull. 7519 (2016).
[3] Id.
[4] Id.
[5] Id.
[6] Id.
[7] Id.
[8] https://www.pabar.org/site/News-and-Publications/News/News-Releases/2020/June/Pa-Supreme-Court-Adopts-PBA-supported-Rule
[9] https://www.pabar.org/site/News-and-Publications/News/News-Releases/2020/June/Pa-Supreme-Court-Adopts-PBA-supported-Rule
[10] Matt Fair, New Anti-Bias Rule for Pa. Attys Hit With Legal Challenge, LAW360, Aug. 6, 2020.
[11] Id.
[12] Id.
[13] Id.
[14] Id.
[15] Id.
[16] Hailey Konnath, ABA Defends Ban on Atty Bas from Free Speech Claims, LAW360, July 14, 2020.
[17] Id.
[18] Id.
[19] Id.
[20] People of Colo. v. Gilbert, 2010 Colo. Discipl. LEXIS 79 (2010).
[21] Id.
[22] Office of Lawyer Regulation v. Isaacson (In re Isaacson), 860 N.W.2d 490 (2015).
[23] Id.
[24] https://www.jurist.org/commentary/2017/07/ali-kahn-aba-rule-change/
[25] Id.
[26] Id.
[27] 46 Pa. Bull. 7519 (2016).
[28] https://www.abajournal.com/news/article/suit-claims-anti-bias-ethics-rule-infringes-lawyers-free-speech-rights#:~:text=The%20Pennsylvania%20Supreme%20Court%20adopted,the%20bias%20rule%20in%202016.