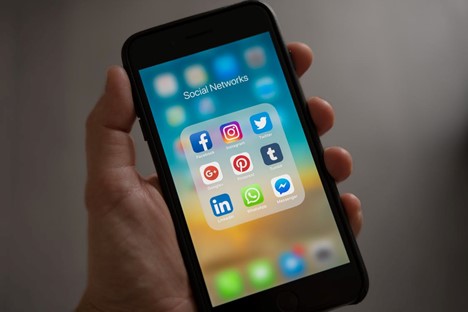 Photo provided via Pexels.com.
The New Battleground for Free Speech
By Josh Larkin, Staff Writer
The United States was founded on the idea of each citizen having certain inalienable rights and freedoms that could not be taken away from an overreaching federal government. Often considered the cornerstone of these freedoms, and guaranteed by the First Amendment [1],  is the freedom of speech. The United States Supreme Court has found that freedom of speech entails more than just one's right to vocalize their opinion, to have freedom of religion or to assure the right to peaceably assemble. Freedom of speech also entails freedoms such as: not to speak, [2] to engage in symbolic speech,[3] to contribute money to political campaigns under certain circumstances,[4] with countless other ways to express one's self. With something such as freedom of speech seeming so enshrined in our rights as citizens of this country, there is an ongoing political battle with this freedom at the forefront of concern. Specifically, this debate deals with free speech and the Internet.
On Thursday, October 22, 2020, the Senate Judiciary Committee authorized subpoenas to order Mark Zuckerberg of Facebook, Jack Dorsey of Twitter, and Sundar Pichai of Google to appear in front of the committee regarding the companies' alleged censorship of certain political subjects.[5] Senator Ted Cruz (R-TX), who has long voiced his concern of "Big Tech" posing the single greatest threat to the First Amendment, alleges that companies such as Twitter and Facebook are "actively interfering in [the 2020 presidential] election in a way that has no precedent in the history of our country."[6] While Cruz has articulated his concern regarding Big Tech companies for some time, the most recent controversy arises from a story by the New York Post. The Post story contends that Hunter Biden, son of Democratic presidential candidate Joe Biden, provided an "opportunity" to Ukrainian natural gas company Burisma to meet Joe Biden during the time of his vice presidency.[7] After publishing that article, Twitter locked the Post's account, and has refused to unlock it until the Post deletes the story. Facebook has likewise been accused of suppressing the story in users' news feeds. [8]
As this story continues to develop, it is important to note that this is not the first time Big Tech companies have been at the forefront of the free speech debate. Previously, Big Tech companies have cited their ability to censor certain social media posts due to Section 230 of the Communications Decency Act of 1996. Section 230 has received much criticism for allowing such allegations of censorship to go unchecked. The section allows no user of a computer service to be treated "as the publisher or speaker of any information provided by another information content provider."[9] Section 230 allows internet service providers and companies, such as Google, Twitter and Facebook, to be "shielded from liability from content posted on their platforms by third parties."[10] As stated, this section has received backlash from political leaders, such as Senator Marsha Blackburn (R-TN) who believes that Section 230 should not be used as "an opaque shield" by Big Tech companies to censor speech.[11] However, Section 230 receives praise from a wide range of Internet companies saying, "without the law, online communication would be stifled and social media as we know it would cease to exist."[12]
Controversy surrounding free speech and Section 230 has brought calls for reforming the law in hopes of stemming censorship of political posts online. President Trump has joined in the call to reform how social media platforms are regulated. However, his attempts have been met with criticism and resistance.[13] The Federal Communications Commission, which previously believed that interfering with Section 230 protections would  be too political, is now ready to take on a Section 230 fight.[14] FCC Chairman Ajit Pai, who was at the forefront of  the Section 230 net neutrality debate in 2017, now says there is an argument for use of legal precedent that grants the FCC "every right to craft rules stemming from any part of the Communication Act [of 1996]."[15] While this is a sharp turn from Pai's previous comments on Section 230, the FCC has been operating on an executive order from President Trump that is "aimed at making it harder for Facebook and Twitter to crack down on conservatives."[16] However, this could be reversed, considering that  President Trump is projected to lose the 2020 Presidential Election to Vice President Joe Biden.[17]
For the time being, Section 230 and the debate of freedom of speech on the internet will remain. However, this may be subject to change after Dorsey and Zuckerberg testify before Congress in November on how they handled political posts and the election.[18]
[1] U.S. Const. amend. I
[2] See West Virginia Board of Education v. Barnette, 319 U.S. 624 (1943)
[3] See Texas v. Johnson, 491 U.S. 397 (1989); see also, United States v. Eichman, 496 U.S. 310 (1990)
[4] See Buckley v. Valeo, 424 U.S. 1 (1976).
[5] Nicolas Vega and Mark Moore. Senate subpoenas Facebook, Twitter CEOs over handling of Post's Hunter Biden story. New York Post. October 22, 2020. https://nypost.com/2020/10/22/senate-subpoenas-facebook-twitter-ceos-over-posts-hunter-biden-story/
[6] October, 15, 2020, https://www.cruz.senate.gov/?p=press_release&id=5424
[7] Nicolas Vega and Mark Moore. Senate subpoenas Facebook, Twitter CEOs over handling of Post's Hunter Biden story. New York Post. October 22, 2020. https://nypost.com/2020/10/22/senate-subpoenas-facebook-twitter-ceos-over-posts-hunter-biden-story/
[8] Id.
[9] Brian Flood. What is Section 230 of the Communication Decency Act, and why is it under fire? Fox News. June 17, 2020. https://www.foxnews.com/media/what-is-section-230-and-why-is-it-under-fire
[10] Id.
[11] Brian Flood. Conservative group launches website to battle big tech companies over online censorship. September 21, 2020. https://www.foxnews.com/media/online-censorship-conservative-big-tech
[12] Id.
[13] Id.
[14] Kyle Daly. https://www.axios.com/the-fcc-is-now-ready-to-fight-section-230-6dec58b7-e940-4214-97e9-56afa469c694.html
[15] Id.
[16] Id.
[17] https://www.cnn.com/politics/live-news/trump-biden-election-results-11-08-20/index.html.
[18] Taylor Hatmaker. Facebook and Twitter CEOS to testify before Congress. October 23, 2020. https://techcrunch.com/2020/10/23/zuckerberg-dorsey-facebook-twitter-hearing-senate-judiciary-november/