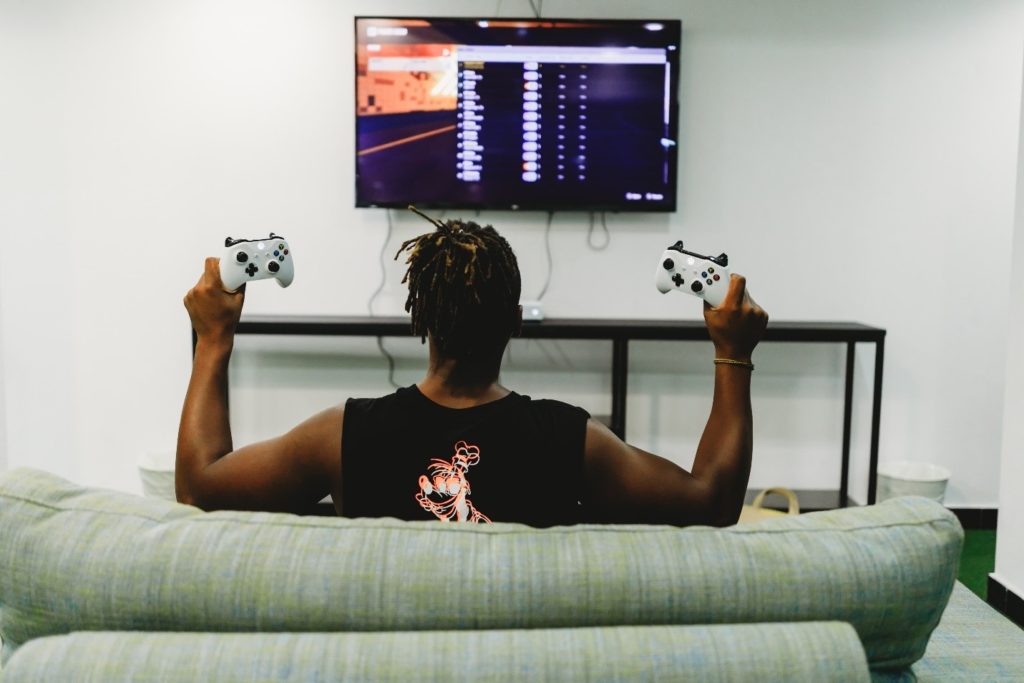 By Stephen Hodzic, Staff Writer
Watch any gamer as they make their initial purchase of a game. The rush and excitement of preparing to be able to play it is comparable to waiting to open a Christmas gift. Typically, gamers must wait to "unwrap" (download or install) the gift, even if they purchased a physical copy. Once the game is installed and ready to be played, users are presented with a very long scroll box with an option to either accept the wall of text to start the action, or to decline and be unable to play the game they just spent the last four hours downloading. Unsurprisingly, most people quickly click "yes." But how many who click "yes" actually realize what they are agreeing to, and what they are giving up?
Unfortunately, many gamers do not bother to read the terms and conditions at all; some even go so far as to mock the length of the terms of service. When the company CHOICE Australia paid an actor to read through the entire Amazon Kindle's terms and conditions, it reportedly was over 73,198 words and took the actor eight hours and 59 minutes to complete the task.[1]  It is understandable that few individuals are willing to undertake the monumental task to read over information that perhaps they do not consider to be all that important before agreeing to it.
Indeed, one study of 543 participants demonstrated that only approximately 25% of them looked at (not "read," looked at) the fine print of a "terms of service" presented to them.[2] Apparently, none of them actually read the entire terms of service, or were extremely lenient with what they considered acceptable terms of service.[3] Little to their knowledge, under section 2.3.1 of this "agreement" the participants agreed to give a (thankfully fictitious) company their future first born children.[4] Another survey by Deloitte of 2,000 consumers in the U.S. found that 91% of people consent to terms and service conditions without having read through them; and for the age group 18-34, the number shot up to 97%.[5]
With statistics indicating people do not read the terms of service they are signing on to, one might assume that courts typically do not find them to be binding. This assumption would be incorrect (mostly). "Clickwrap," as it is commonly referred to, is defined as a legal agreement in which a user indicates acceptance by clicking on a button to agree to the terms.[6] [7]
Some argue that having users agree to terms in such a way should not be binding for several reasons.[8] Firstly, users do not have power to negotiate with the software company because the software is usually already purchased. Games may offer a refund if the terms are not accepted and the game is not played, but for digital download games, the policy is generally that there are no refunds once the game is downloaded (sometimes even immediately after purchase).[9] They also argue that the terms are excessively broad and incredibly restrictive;[10] thus, the contract should be considered unconscionable and therefore not binding.[11] Despite these concerns, courts usually find clickwrap agreements to be binding.[12]
So why does this matter? If you read the terms of service, you would know. While some terms may not seem significant to most video game consumers, others should be taken seriously. Most video game agreements include an arbitration clause that requires the user to enter into binding arbitration should a dispute occur.[13] Bethesda, designers of the wonderfully received Fallout 76,[14] does provide a waiver for consumers allowing them to opt out of arbitration, should they decide to fill out the waiver and send it to Bethesda.[15] Electronic Arts' (EA) mobile end user license agreement offers a different type of waiver – by accepting the terms and conditions, users waive their right to a jury trial or to participate in a class action lawsuit.[16] This includes claims related to advertising.[17]
If binding arbitration is not enough to make a consumer hesitate before clicking "agree," in many games, especially those with online-only content, the user is not actually purchasing the game itself. Rather, they are only purchasing a license to use the game.[18] Better yet, there isn't even a guarantee that the game will actually work at all times, and the companies typically reserve the right to terminate the license at any time for any reason, without notice to the user.[19] Albion Online states they can terminate the agreement at any time without cause, though they will give 14-days' notice in text form (though the next line reports that their statutory right to terminate the agreement for a compelling reason with shorter/no notice remains unaffected).[20]
There is, however, hope for those who are averse to reading 20 pages of text before clicking on "I accept." Some games have begun to be more straightforward with the information they are taking from users. One game, a mobile game titled "Among Us," has a prompt when the player first opens the game after downloading it.[21] Rather than a link to a webpage or a scroll bar for a wall of text, the game simply states what kind of data they want to collect, and why they want to collect it.[22] The first clickwrap agreement states the data is to improve the game by checking in game metrics (where players spend time, take actions, and so on). They also give the option for the player to have personalized ads sent to them if they want, and also reminds the player that other information must be sent out and that this must be accepted in order to play the game. With all that being said, this game stands as an outlier in that it offers the player options in what information is sent and states in clear, concise terms what information is sent and why.
It may be unfair to compare a relatively small and simple mobile game to a Massive Multiple Online Role Playing Game (MMORPG) such as Albion Online or Fallout 76. However, there is something to be learned from giving the consumers clear, concise choices in what data they are willing to give, and having the information provided in an easy-to-read format. Such tactics ensure both fairness to the consumers as well as protection for the companies vis-à-vis claims of being purposefully vague and obscure with their terms of service.
Many organizations are aware of the issues and have worked to address it. Choice.com, the company that employed an actor to read through the entire Amazon Kindle terms of service, reviews a range of products and advocates "better, safer and fairer products and services."[23]  Another company has started an initiative to rate companies based on their website terms and privacy policies, assigning them a grade from A to E. [24]
Courts may be catching on, too. In  Bassett v. Elec. Arts, Inc., the Eastern District of New York found that the plaintiff would go through arbitration per the terms of service, but the option to continue forward with their legal action would remain depending on the result of the arbitration.[25] While this one case is certainly not definitive, it could be an indicator that some courts may be willing to consider alternate options in spite of (or perhaps because of) the current state of the terms of service as they are presented to individuals who just want to be able to play a game.
It is important to note that the complete removal of an arbitration clause may open up companies to a barrage of lawsuits for individuals looking for a quick settlement… yet at the same time, forcing a binding arbitration clause on someone who had already purchased the product and may not be able to apply for a refund would be unlikely to satisfy a concern for fairness to the consumer. One report showed an incredible 80.1% of all game revenue in the UK was made through digital sales, generating nearly 3.1 billion pounds.[26] With numbers this significant, it is likely concerns, complaints, and court cases involving digital games will continue to occur. It will be interesting to see what changes increased attention to the nebulous terms of service will bring; if any.
Note: The author of this article is not affiliated with any of the aforementioned companies or products nor has he received any compensation for discussing these products at the time of this writing; though he does enjoy several of the games mentioned in varying degrees.
Sources
---
[1]Choice Australia: How long does it take to read Amazon Kindle's terms and conditions? – CHOICE, Youtube, (Mar. 13, 2017), https://www.youtube.com/watch?v=sxygkyskucA
[2] David Berreby, Click to agree with what? No one reads terms of service, studies confirm, (Mar. 3, 2017), https://www.theguardian.com/technology/2017/mar/03/terms-of-service-online-contracts-fine-print
[3] Id.
[4] Id.
[5] Caroline Cakebread, You're not alone, no one reads terms of service agreements, (Nov. 15, 2017), https://www.businessinsider.com/deloitte-study-91-percent-agree-terms-of-service-without-reading-2017-11
[6] The Free Dictionary, https://www.thefreedictionary.com/clickwrap (last visited Apr. 7,2019)
[7] Collins Dictionary, https://www.collinsdictionary.com/dictionary/english/clickwrap (last visited Apr. 7, 2019).
[8] Garry Founds, Shrinkwrap and clickwrap agreements: 2B or Not 2B?,  (Dec. 1, 1999), https://www.thefreelibrary.com/Shrinkwrap+and+clickwrap+agreements%3A+2B+or+Not+2B%3F-a058243656
[9] https://kotaku.com/how-to-refund-digital-games-1823466527
[10] Id.
[11] Id.
[12] See, e.g., Hill v. Gateway 2000, 105 F.3d 1147 (7th Cir. 1997); In re RealNetworks, Inc. Privacy Litig., 00 C 1366, 2000 U.S. Dist. LEXIS 6584 (N.D. Ill. May 11, 2000); Richard G. Kunkel, Recent Developments in Shrinkwrap, Clickwrap, and Browserwrap Licenses in the United States, ¶ ¶ 16-23(Sep. 2002), http://www.murdoch.edu.au/elaw/issues/v9n3/kunkel93_text.html
[13] Electronic Arts, Application End User License Agreement, https://tos.ea.com/legalapp/mobileeula/US/en/OTHER/ (last visited Apr. 17,2019).
[14] Rachel Pressdee, Law in the Wasteland, (Feb. 24, 2019), http://sites.law.duq.edu/juris/2019/02/24/law-in-the-wasteland/
[15] Bethesda, Terms of Service, (Mar. 14, 2016), https://bethesda.net/en/document/terms-of-service
[16] Electronic Arts, Application End User License Agreement, https://tos.ea.com/legalapp/mobileeula/US/en/OTHER/ (last visited Apr. 17,2019).
[17] Id.
[18] Electronic Arts, Electronic Arts User Agreement (Mar. 29, 2019) https://tos.ea.com/legalapp/WEBTERMS/US/en/PC/#section4
[19] Id.
[20] Albion Online, Terms and Conditions Sandbox Interactive GmbH, (Apr. 10, 2019) https://albiononline.com/en/terms_and_conditions
[21] Among Us, Innersloth, https://innersloth.itch.io/among-us (last visited Apr. 7, 2019).
[22] Id.
[23] Choice Australia, https://action.choice.com.au/ (last visited Apr. 7,2019).
[24] Terms of Service Didn't Read, https://tosdr.org/ (last visited Apr. 7, 2019).
[25] Bassett v. Elec. Arts, Inc., No. 13-CV-04208 (MKB) (SMG), 2015 U.S. Dist. LEXIS 36175 (E.D.N.Y. Feb. 9, 2015).
[26] Ryan Craddock, 80% of UK Gaming Revenue Came from Digital Sales in 2018, Industry Made Almost £4bn in Total, NintendoLife, (Jan. 3, 2019), http://www.nintendolife.com/news/2019/01/80_percent_of_uk_gaming_revenue_came_from_digital_sales_in_2018_industry_made_almost_p4bn_in_total.