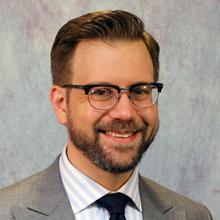 Juris Magazine's Nick Frost sat down with Visiting Assistant Professor Richard Heppner in March 2018 to delve more into his background, work experiences, and what led him to his first year teaching at Duquesne University School of Law. Professor Heppner teaches Civil Procedure and Antitrust Law.
Note: Some portions of the following interview have been edited or omitted for clarity.
Nick Frost: What led you to Kenyon College as your undergraduate?
Professor Richard Heppner: I'm from Pittsburgh originally — grew up in Highland Park, Squirrel Hill. I kind of always knew I wanted to do English for college and, in the back of my mind, always thought about law as a real-world application of a lot of English stuff. So, I went to Kenyon, which is well known for its English Literature Department. . . . From there, I went on to graduate school, got a Ph.D. in English [literature] at Tufts, where . . . I studied British modernist literature and a lot of deconstruction, things like that, literary theory.
And I taught for a few years after getting my Ph.D. back around here. I taught up at Allegheny College for a year or two here, where my wife is a professor. I taught at Slippery Rock for a while and ended up deciding to go back to law school. . . . [I was] so excited to go back to law school, largely because I was missing that kind of practicality, I was missing the chance to do research and writing. . . . I was not just a non-traditional student, but I think a non-traditional, non-traditional student. [I was] somewhere in my mid-thirties when I decided to go back to law school. I applied to a bunch of schools and went to Harvard. And then, . . . I went and I clerked and managed to get back here that way, and went to Reed Smith, and then managed to come here just this past year.
NF: I mean, obviously, Harvard being Harvard, it probably wasn't too difficult for you to choose that as your school once you were accepted there, but what made you leave the area since you kind of stayed in this area before that?
RH: Well, I had and I hadn't stayed in the area. I love Pittsburgh, and my parents are still here. It is actually sort of happenstance that I ended up back here in some senses. Now I've been back for 10 years at least, owning a home and the whole bit. But I went away for undergrad, went to Boston for graduate school to Tufts [University]. And [in] the English professor job market, you have to be pretty much willing to go anywhere. . . . I met my wife in graduate school, and she ended up getting this job at Allegheny College, which brought her back here. She had finished a year or two ahead of me . . . . I was still working on my Ph.D. when I was back in the area of teaching around here for a while. . . .
When it came time to decide where to go to law school, I aimed for breadth. . . . I had no idea how I was going to do when I applied to law schools because you can often look at the big chart and be like, "Here's my LSAT scores, and here's my undergraduate GPA," and that's going to plug me into some range of schools or some group of schools. But it had been 10 years since my undergraduate GPA. I had a Ph.D. in English literature, so there were just a bunch of other factors that I didn't know how they were going to figure in. I applied to a real wide range of schools and basically went to the best one I could get into. That's how I ended up back in Boston for another four years because I went to a firm for a year afterward.
NF: What was the driving point that made you choose to go to law school?
RH: It has always been a strong consideration, and I found myself in the early to mid-2000s living in fairly rural Western Pennsylvania and missing being involved with effecting change in the world, basically. English was starting to feel very isolated — and teaching was great; I loved teaching. But it's very focused. Especially when you're teaching undergraduate English, it's not like you can't talk about big important things, but the connection to practical applications is somewhat missing. I was missing that, but I didn't want to give up the chance to do a lot of heavy research and writing. Law had always been kind of the other option. And I found myself more and more drawn to it, as I wanted to do something to make more and more of a difference, I guess. So, that's how I ended up going to law school. . . .
I think what teaching in law school gives you the chance to do is have that . . . [balance of] practical skills. . . . Duquesne is great for that. . . . [Teaching Civil Procedure] also is a chance to think about more than what a lawyer does on a day-to-day basis. . . .
NF: How do you think being a professor of English has helped you as professor of law?
RH: A lot, actually. It helped me a lot as a lawyer, and it's helped me a lot as professor of law. The bottom line is there is a ton of reading and writing in the law, and that sounds simplistic, right? . . . But breaking down texts to find trends, to do that sort of critical reasoning, to do that and making new creative connections — I think that makes a big difference. And I learned those from teaching and studying English. . . . I think English, and, particularly, the literary side of things, does give you that chance for creative interpretations. . . . As far as the teaching side of things, I think I [ask] people to put things in their own words in class [a lot]. I do a lot more close parsing of the words and the rules, and the words and the text of the statutes, or the opinions and things like that.
NF: Do you think that experience in English has helped you with being a law clerk?
RH: For clerking, it made a huge difference. I think a lot of what you do when you're clerking is writing; 90 percent of what you do when you're clerking is writing. . . . [W]hen I started clerking, I knew theoretically how the law worked. But you go to a district court, like I did with Judge Fischer, and that's where I really learned how the law works, and it's where you really learn how the procedure works on a day-to-day basis.
For that, there's a lot of picking up on the genres of the things you're writing — to pick up on the genres of what opinions looked like and what they look like at the district court — which [are] different from the ones that you read all the time in law school, because they're all appellate opinions. What do those opinions look like? What does a summary judgment opinion look like versus a motion to dismiss opinion? What do orders look like? . . . . [These are] all texts that you're generating, that you're drafting, that you're working with your judge back and forth about. . . .
When I went to law school, I totally had to relearn how to write because it's very different from the way [I wrote] like when I was getting my Ph.D.; [I was] writing deconstruction and literary theory, and it's trying to come up with unusual things that are eye-catching and perhaps insightful, but radically different from the way you would normally think about stuff. That's never what you want to do when you're a lawyer. When you're the lawyer, you want to present it, like, "Allow me to inform you about the most obvious thing that you know, and this clearly shows why I should win. There's nothing radical about this. There's nothing new about this. This is just a simple application of the law" — even when it's not. Even when you are trying to make a case for some big new change in the law, you try to work within a framework of straightforward logic, not surprise twists.
NF: For Judge Fischer and Judge Hardiman, were there any stark differences between the jobs between them? Besides the writing styles, which you've touched on.
RH: Sure. I mean, there's a big difference in the job because there's a big difference in the job of a district court judge and an appellate judge. . . . With Judge Fischer, [that was] where I learned how a case actually happens. I took Civ Pro, it was great, but it was not that practical necessarily all of the time. And so, this is where I got to see how it happens on the ground.
You learn that there's a lot of just calling attorneys, and issuing small orders, and answering questions, and handling dockets, and keeping the time for motions, and keeping track of deadlines — and all kinds of stuff that you're doing on a day-to-day basis, back and forth. You're handling, juggling many things at the same time. And that's all in preparation for the fact that you're going to have a trial, you're going to have a sentencing, or you're going to have an argument on the motion or whatever. . . .
The appellate court level [where I was] with Judge Hardiman is a very different life because it's a very different workflow. You are rarely, if ever, dealing with things on a quick basis. You're not handling motions, for the most part. Different judges do it differently because there are some motions that happen on appeals, and some judges involve their clerks with them. But Judge Hardiman really didn't, so there's very little case management to be done.
Really, what you're doing is you're sitting down with a brief, and a brief from the other side, and then the reply brief. . . . You got them all at once, and you look at them, and you look at the record, and over the course of two months, you work through how to decide however many cases you have on your desk. It's maybe three or four cases per clerk in that time period, something like that. It depends on the workload at the court. But the point is, you have one long project that involves more in-depth legal reasoning and a more in-depth, long-term process and long-term writing — and, by definition, harder questions, because that's what gets up on appeal. . . .
You're never calling the lawyers, and you're never dealing with the parties, and you're never doing any of that stuff. . . . It's a much more isolated life. You're not dealing with the public a lot, although there's a lot of camaraderie. Like within the chambers, I get along great with the other clerks I [worked with]. I still get along great with Judge Hardiman. . . . But it's a very different sort of lifestyle just because of the nature of the workload.
NF: Would you say it was easier to adjust to the new lifestyle as a clerk under Judge Hardiman than it was being a first-time clerk under Judge Fischer?
RH: Being in appeals court is much more like being in law school. That's the easier transition because you're kind of doing the same thing. . . . It was definitely a big shift for me because even though I practiced for a year [before clerking] — as a young associate at a very large firm, I saw small parts of very big cases. But when you're the clerk, you see the whole case at the same time; even if it's not a very big case, you kind of have to get a handle on it. So, that was a big adjustment. . . . I learned a ton. [The appellate clerkship] was more in line with the kind of analysis you would do in law school, whereas the district courts were more in line with what you do when you're practicing when you're a lawyer.
NF: For your first year in the firm [Ropes & Gray] outside of law school, was that kind of in-line with the pace that you did with Judge Fischer?
RH: I think that's right. When you're at a big law firm, . . . you will be in charge of small parts of big things. . . . You're answering to lots of people: senior associates, partners, clients. . . . That's true at Ropes & Gray; it's true at Reed Smith. I think it's true at all big law firms, and that's more like what it's like at the district court level just because that's how you're going through litigation.
NF: You mentioned how the Civil Procedure class that you were taught wasn't as practical. Are you focusing on trying to make it more practical at Duquesne?
RH: I think so. I mean, I really liked the Civil Procedure that I took, and it gave me a real appreciation for how procedure is not just how to write. It's not just a set of hoops [you've] got to jump through or hurdles you have to get over, but it makes a real [substantive] difference in the real world. . . .
It's easy to see how "what the elements are of negligence" in Torts class makes a difference in the real world — because all of this will determine whether somebody is responsible and whether they make their products safely or whatever. . . . It takes a little more work to see why setting up the plausibility standard for Twombly and Iqbal is really a question of justice in the world. Like, how much process is enough due process? Things like that, those kinds of policy-side, substantive, philosophy-of-law kind of things. I got a lot of that at Harvard, and it was great. . . . [I]f it was just a bunch of rules to learn, I don't know that I would've cared about it that much. So, I definitely still try to do that. I still try to impart why this all matters.
That being said, I also try to get a real, practical side as well. These are the things you're going to need to know. . . . You're going to need to know how the rules say this, and you might think it means X, but in practice, it actually means Y. You need to know when — we were talking about this today — there's the rule for proposing jury instructions that says the parties may propose jury instructions at the close of evidence or earlier if the court orders it. But in the real world, that "may" is a "must." There's no way you're not going to propose your jury instructions. You need to get your say as to what the jury instructions should be.
NF: What led you to Reed Smith after clerking?
RH: I was, at that point, very happy to be back in Pittsburgh. Coming off of a clerkship is a great position to be in, and coming off of these two clerkships was a particularly great position to be in. Judge Fischer is well-regarded and knows everybody in Pittsburgh, and everybody in Pittsburgh knows Judge Fischer. I mean, the Pittsburgh legal community [is] very close-knit. Her guidance and good word made a big difference.
Judge Hardiman had been . . . at Reed Smith before he was a district court judge and then an appellate court judge. . . . I talked to both judges about what [I should] do next. I wanted to stay in Pittsburgh, and I was still paying off school loans, which is something that clerking doesn't help with much, relatively speaking. So, they, and [Judge Hardiman] in particular, pointed me toward Reed Smith.
I talked to other places. I talked to the U.S. Attorney's office; I talked to K&L Gates and [Duane Morris and] other firms in Pittsburgh as well. But Reed Smith has an appellate group, which I thought I wanted to do because I like doing all that reading and writing and long brief writing. . . . I met with them, and they were a wonderful group of attorneys. And I guess that's how I ended up there.
NF: During your time at Reed Smith, was there somebody that pointed you toward Duquesne, or did you kind of pursue that on your own?
RH: Duquesne is in this great position of being one of the two law schools in the city. . . . The Pittsburgh legal community is such that people know Duquesne, people know Pitt, and so I came in contact with it left and right. [Judge Hardiman] teaches a class here, and Judge Fischer had various other things she had done through Duquesne and through the Catholic church and St. Mary's and all that. . . . There were a ton of connections, basically. . . . When it became clear to me that [Duquesne] needed somebody for the year, . . . I talked to lots of different people about it here and threw my hat in the ring.
NF: What aspects of teaching at Duquesne, specifically, do you think is different from other schools?
RH: I haven't taught law at other schools, but I've taught English and things at other schools primarily . . . [at] the undergraduate level. . . . [Here,] you have students who know they want to be here, which makes a big difference, I think.
People go to college. For some people, it's a considered decision, and they've worked very hard to do it. For other people, it's just the logical next step, and they didn't really put a lot of thought into it. They have to take an English class. So, there they are in your intro literature class, and it's not the thing that they're there to do.
In law school, in general, the students want to be there. They've worked very hard to get there, and they value what they're doing in a way that is really gratifying. It makes for much better classes and investment and involvement when the students . . . actually care [about] what they're doing. Yes, everybody needs to pass their classes. . . . But everybody's kind of in the same boat. They know what they're doing there, and that's been great. . . .
I have really liked the close-knit faculty [at Duquesne]. There [are] faculty from all kinds of different backgrounds with lots of different approaches. . . . I felt very supported as I was here as a visiting professor. . . . I was doing a lot of [talking] with people to try and get a job for next year, and everybody was sort of uniformly welcoming and kind, which I think probably goes a long way. . . .
I think there must be some connection to Duquesne — some sort of a larger mission and spirit and approach to trying to actually do some good with what you're doing — which I think is probably different from other law schools. Certainly, everybody has pro bono programs and things like that, but . . . some schools have a very purely business kind of focus or purely turn out students who are going to go off and make a ton of money. [Duquesne is not like that.]
NF: Since this is your first year of teaching law, what aspects specifically in teaching law have you enjoyed the most?
RH: It shouldn't take a long time to think about what I've enjoyed the most, but it does just because I really enjoyed the whole process a lot. I will say, I'm teaching this year two different classes — one Civ Pro, obviously a large intro 1L class. You know, watching that process [where] students come in and not know what a motion is, to now we're talking about post-trial motions — and they can sort of grasp that it makes a difference whether you leave it up to the jury or not. That is a super gratifying process.
On the other hand, the other class I'm teaching is Antitrust. It's the exact opposite kind of a class. Civ Pro is very rule heavy, and it's introductory and large. Antitrust is very case heavy. It is advanced, and it is small. There are eight students in my Antitrust class. So, what's gratifying is . . . getting everybody involved. Everybody talks all the time. There's nowhere to hide, but also, if people are confused by something or think something shouldn't work that way, you get a real chance to go back and forth and talk through it and work through that kind of hard stuff.
I really liked both ends of the spectrum on that. It's hard to say what I like more. . . . [But] that chance to just dig in on this stuff and see students challenge their preconceptions —  yeah, . . . that I like.
NF: I'm going back to your time as a student. Was there any class specifically that kind of led you in the direction of where you wanted to go for your law career?
RH: I'm not going to be able to point at one class. . . . My [Torts] professor took the very historical approach, and it really opened my eyes to the development of the law and things like that. I talked a lot already about how Civil Procedure had a bunch of different things. The one that certainly shaped me the most in terms of my day-to-day practice was my LRW class. . . .
A lot of the way that I think is through writing. I think that works that way for a lot of lawyers. Even if you're good on your feet or whatever, when you're working something out, when you're developing an argument, the best way to do that is through writing. As I said earlier, I totally relearned how to write when I went to law school through LRW and then subsequent classes applying it. So, when they talk about learning to think like a lawyer, for me, that was inseparable from learning to write like a lawyer. That just made a huge difference in my development.
NF: The last question is where you can [give] your advice to students on, mainly, different types of internships that they could do to better prepare themselves for careers — since you did work for two large firms now and several judges.
RH: I've already been dispensing some of my own personal advice to the students this year, I would say. So, first of all, I think it definitely makes a difference what you do over the summers, but it doesn't lock you into anything — especially your 1L summer. That summer is the chance to explore things, the chance to try things that sound interesting, but maybe [you're] not sure you want to do. . . . I went and worked with the public defender's office. I had a wonderful time.  [I'm] not at all really that interested in criminal law, but it was great. I got to go to court, and I got to write motions; I got to interview clients, and I learned a ton. It was super fascinating, and I gained an incredible respect for what they do. So, that first summer I think of as [being] much more exploratory.
The second summer is more like you're trying to lock in something that maybe will lead directly to a position there the next year. In that sense, it has to be more targeted to what you want to do. But the more you can see how people actually live their lives as lawyers, the better. . . . [For instance,] I was like, "Did I like this class? Do I want to go into real estate? Well, how did I feel about my Property class?" Because you'll be dealing with the law of Property if you're a real estate attorney. . . . [But also, you will] have certain kinds of clients. You may have construction companies, or you may have developers, or you may have individual homeowners — and you don't know what it's like to work with those [different] kinds of people. You don't know what it's like to work on a day-to-day basis in that particular field.
That's true of every field of law. Every field has both the "what's-the-law-like/do-I-like-it" [aspect] and then [the] "What are the clients like? What are the issues like? What are the other lawyers in that field like?" [aspect]. . . . In some fields, lawyers have a reputation for being real hard-driving — you know, real jerks or whatever. And others, it's a much more cooperative process, and that's the kind of thing you need to learn by seeing what it's like to actually practice it. . . .
I really do like the idea for people in summers, and even after law school, of going and doing something in the courthouse. . . . I never took an Employment Law class, but I saw a ton of Employment Law practitioners and cases when I was in the Western District because there's a lot of it there. . . . To see how it actually works on the ground and to see what people actually end up talking about — being in the courthouse is a great way to get that cross-section of all the different areas [of the law] instead of just the one. So if people ask me for advice, I do try to steer them toward doing something in the court. . . . It's an experience you can't really get much later.