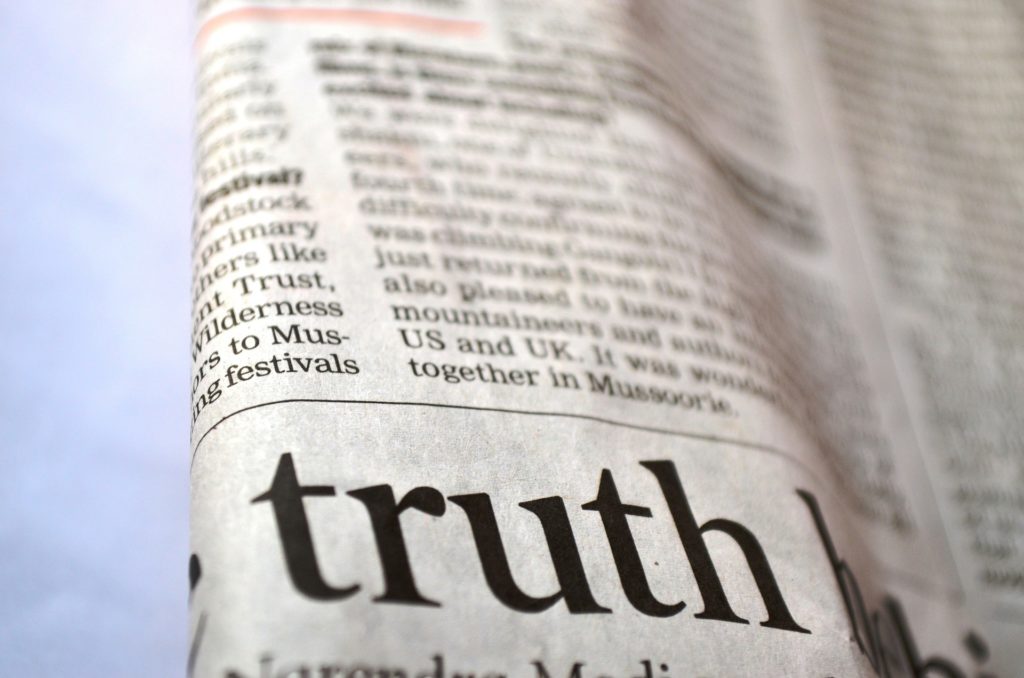 By Nicole Prieto, Editor-in-Chief
Additional Reporting by Natalia Holliday, Web Editor
Duquesne University School of Law hosted the symposium "Resurrecting Truth in American Law and Public Discourse: Shall These Bones Live?" last Thursday through Friday, featuring a keynote presentation and two panels of distinguished scholars from various institutions across the country. The event was also available for ethics CLE credit, and both days could be livestreamed online on Panopto.[1]
For the two days spanning the event, Room 203 of the law building was packed row-to-row with attendees — so much so, there was an overflow room on Friday. Prof. Bruce Ledewitz co-convened the symposium alongside Prof. Heidi Li Feldman of the Georgetown University Law Center and in collaboration with Prof. Jane Campbell Moriarty. In an interview with Juris Magazine, he cited the 2016 presidential election as inspiration to begin putting the event together since this past May.[2]
Thursday's event kicked off the symposium with the a 4-5 p.m. address in Room 203. Prof. Ledewitz first introduced the panelists and Duquesne University President Ken Gormley, former dean of the law school.
President Gormley discussed one of the underlying concerns of the symposium: "What is truth, and does it even exist?" he posited to the room. He noted the deterioration of trust in recent years, and he emphasized that being able to talk about the "problems of our time" is essential to solving them. As such, the symposium aligned with his own ideal of promoting civil discourse.
In the interview, Prof. Ledewitz likewise agreed. He said that "Resurrecting Truth" was a chance to encourage much-needed discussion across political lines.
"I hope it causes [everyone] to think about their habits of speech," he said.
President Gormley then introduced symposium address presenter Prof. Louise Antony of the University of Massachusetts Amherst, a professor of philosophy whose work intersects ethics, feminism, religion, and atheism. Prof. Antony introduced her concept of "dragnet objectivity." As would become a common theme among the other speakers, she invoked the question of trust and the role of our native biases. For her, justice is essential for obtaining truth once again.
The floor was then opened for a brief Q&A session with audience members before breaking for an evening reception in the fourth-floor faculty lounge.
[pullquote]"I hope it causes [everyone] to think about their habits of speech." —Prof. Bruce Ledewitz[/pullquote]
On Thursday, Prof. Ledewitz was optimistic about the panelists presenting the following morning. Interestingly, he did not know them all when initially forming the panels — something that was unusual for this type of event. He did observe, however, that though the speakers came from diverse perspectives and backgrounds, all did have one thing in common:
"None of them are going to bash politicians," he said. "That's not who they are."
On Friday, his words held true. The symposium opened once again in Room 203 at about 8:20 a.m. with an adjacent overflow room livestreaming the panels. Prof. Moriarty began by explaining the origin of the symposium's full title, describing how "Shall these bones live?" has its origins both biblically and in the poem "Ash Wednesday" by T.S. Eliot. She expressed optimism at society's ability to "revive trust."
Prof. Ledewitz, Prof. Justin Dyer of the University of Missouri, and Prof. Lawrence M. Solan of Brooklyn Law School comprised the first panel, with Prof. Jennifer Bates of the Department of Philosophy moderating. Prof. Feldman, Prof. Alina Ng of Mississippi College School of Law, and Prof. W. Bradley Wendel of Cornell Law School comprised the second panel, with Prof. Elizabeth Cochran of the Department of Theology moderating.
Brief biographies of all speakers and moderators are available here.[3] As noted on Duquesne Law's website, "[a] special issue of the Duquesne Law Review in 2018 will feature the symposium proceedings."[4] Prof. Ledewitz's full remarks, emphasizing the importance of trust in the pursuit of truth, are available on Juris here.[5]
As Prof. Ledewitz noted, each speaker had a unique take in the broader discussion of truth in American life. Prof. Dyer, whose background is in political science, referenced James Wilson's anthropology and will write on "whether moral realism can be persuasively reintroduced into law school teaching."[6] Prof. Solan parsed out the legal profession's acceptance certain forms of dishonest behavior without sanctioning outright lying; his work will "examine[ ] ways in which the law distinguishes among . . . species of dishonesty" in society and our legal system.[7]
Prof. Feldman broached the subject of mendacity and how lawyers can take a proactive role in holding American politics accountable for truthfulness to the public.[8] Prof. Ng attributed our social divisions and distrust to our inability to "find common ground" — and posited how we may find it through natural science.[9] Prof. Wendel discussed role-differentiated morality, how lawyers take for granted the profession's "reason-based rules," and how that may be marshalled toward protecting dignity and autonomy in society.[10]
Q&As followed each panel with a later plenary session moderated by Prof. Wilson Huhn, visiting professor of law.
Prof. Ledewitz praised Duquesne Law's role in facilitating a significant subject in modern American discourse. Though he is not entirely certain whether we may truly restore American democracy and truth — observing that "we don't know if democracy can survive Facebook," for instance — he is optimistic.
"Talking to each other" is just the beginning, he said, and "Duquesne has to become a model" for reaching across the political aisle. "This symposium is an example."
Sources
---
[1] Resurrecting Truth in American Law and Public Discourse CLE, Duquesne Univ. Sch. of Law, https://www.law.duq.edu/events/resurrecting-truth-american-law-and-public-discourse-cle (last visited Nov. 20, 2017).
[2] Interview with Bruce Ledewitz, Professor, Duquesne University School of Law, in Pittsburgh, Pa. (Nov. 9, 2017).
[3] Resurrecting Truth in American Law and Public Discourse presenter biography handout, Duquesne Univ. Sch. of Law, https://www.law.duq.edu/sites/default/files/documents/CLE/Duquesne%20Law%20Symposium%20-%20Bios%20for%20Speakers%20and%20Moderators.pdf (last visited Nov. 20, 2017).
[4] Resurrecting Truth, supra note 1.
[5] Bruce Ledewitz, The Resurrection of Trust in American Law and Public Discourse, reprinted on Juris Magazine (Nov. 21, 2017), http://sites.law.duq.edu/juris/2017/11/21/the-resurrection-of-trust-in-american-law-and-public-discourse.
[6] Resurrecting Truth in American Law and Public Discourse abstract handout, Duquesne Univ. Sch. of Law, at 4. (Note: References interchange between the handout provided to symposium attendees and the live presentations.)
[7] Id. at 5.
[8] Id. at 6.
[9] Id. at 7-8.
[10] Id. at 9.