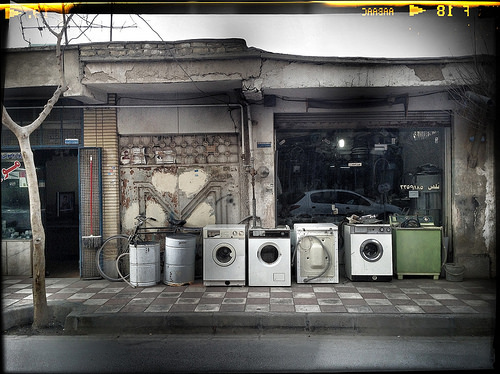 By Samantha Cook, Staff Writer
Whirlpool is a U.S.-based appliance manufacturing conglomerate and a household name. But like many U.S. companies, Whirlpool is struggling to compete with multi-national corporations like Samsung and LG, who import and sell their foreign-made products in the United States, often at lower prices than their American counterparts. This is a controversial practice for which the U.S. government has attempted to provide a remedy. The generic term for dumping a large volume of goods and selling them for less than market value is called, well, "dumping." And in the United States, it's illegal.
The United States International Trade Commission (USITC) is a unique agency in that it is independent and quasi-judicial, and one of its primary responsibilities is to investigate and remedy injuries resulting from unfair international trade practices. In a typical case, an American company will file a complaint with the USITC[1] and the Department of Commerce accompanied by data illustrating how the trade practice caused a loss in sales or revenue. From there, the USITC will go on to investigate the case. If the investigation results in a finding that the trade practice is unfair, then the USITC may impose additional duties on the imported goods to raise its price to market value.
Samsung and LG, two multinational conglomerates headquartered in South Korea, are no strangers to antidumping duties. In 2012, the U.S. Department of Commerce found that Samsung and LG were selling South Korean- and Mexican-made washers in the U.S. under market value, just last January the USITC voted to impose duties on these companies' residential washing machines manufactured in China.[2] But what happens when a company has the resources to change the origin of its goods, so that the Samsung washers are no longer South Korean, Mexican, or Chinese-made, but, say, Vietnamese? Or Thai? Whirlpool alleges that Samsung and LG have been evading anti-dumping sanctions by moving manufacturing operations from one country to another.
Whirlpool's proposed solution to repeat offenders is a "global safeguard," rather than a country-by-country duty. It's very rare for a company to request the global safeguard protection, established in Section 201 of the Trade Act of 1974. Although this statute doesn't require that the U.S. government find evidence of an unfair trade practice, the economic injury to a U.S. company must be serious, and the influx of imports must have been a substantial cause of the injury.[3] The last time this statute was invoked was in 2002, when President Bush placed temporary tariffs on global steel imports.[4] At the time, these tariffs were referred to as "some of the broadest federal action in two decades to protect a major American industry." European allies and Japan immediately responded to President Bush's action with threats to challenge it in the World Trade Organization (WTO).[5] Within two years, the United States withdrew the tariffs to prevent retaliation from its top trading partners.[6]
The USITC voted unanimously on October 5, 2017 that large residential washers are being imported into the United States at such a high volume that it is, in fact, disrupting American companies' ability to compete in the industry.[7] So now, fifteen years after President Bush invoked the Trade Act, the USITC will present President Trump with proposed trade remedies pursuant to Section 201, pending his final decision. And like his protectionist predecessor, President Trump should expect a challenge from the WTO.
Sources
---
[1] 19 C.F.R. § 206.2 (Lexis Advance through the October 4, 2017 issue of the Federal Register. Pursuant to 82 FR 8346 ("Regulatory Freeze Pending Review"), certain regulations will be delayed pending further review. See Publisher's Note under affected rules. Title 3 is current through October 6, 2017)
[2] http://www.reuters.com/article/us-usa-trade-china-washers/u-s-trade-panel-upholds-duties-on-chinese-made-samsung-lg-washers-idUSKBN14U20H
[3] https://www.usitc.gov/press_room/us_safeguard.htm
[4] https://www.reuters.com/article/us-usa-trade-whirlpool/panel-finds-u-s-washing-machine-makers-hurt-by-lg-samsung-imports-idUSKBN1CA1W4
[5] http://www.nytimes.com/2002/03/06/us/bush-puts-tariffs-of-as-much-as-30-on-steel-imports.html
[6] https://www.nytimes.com/2017/10/05/us/politics/washing-machines-trade-whirlpool.html
[7]https://www.usitc.gov/press_room/news_release/2017/er1005ll841.htm