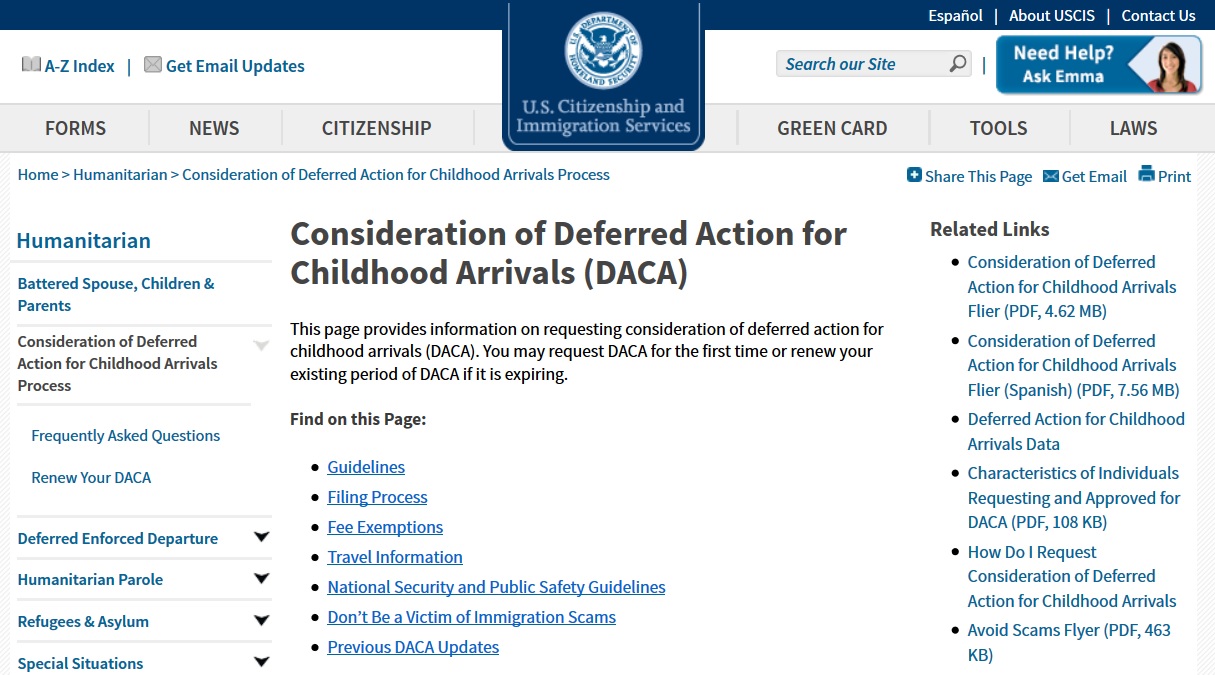 By Amber McGee, Staff Writer
Deferred Action for Childhood Arrivals, implemented in 2012, gave thousands of undocumented immigrants the opportunity to come out of the shadows of illegality and pursue the "American Dream." President Barack Obama crafted this program to address the struggle that undocumented persons faced who entered the country illegally as children due to no fault of their own.
According to USCIS, you may request DACA if you:
1. Were under the age of 31 as of June 15, 2012;
2. Came to the United States before reaching your 16th birthday;
3. Have continuously resided in the United States since June 15, 2007, up to the present time;
4. Were physically present in the United States on June 15, 2012, and at the time of making your request for consideration of deferred action with USCIS;
5. Had no lawful status on June 15, 2012;
6. Are currently in school, have graduated or obtained a certificate of completion from high school, have obtained a general education development (GED) certificate, or are an honorably discharged veteran of the Coast Guard or Armed Forces of the United States; and
7. Have not been convicted of a felony, significant misdemeanor, or three or more other misdemeanors, and do not otherwise pose a threat to national security or public safety.[1]
For the nearly 750,000 individuals who took advantage of this program, they are now fearful that their legal statuses may disappear and leave them at risk for deportation to countries they would not recognize as home.[2] Trump plans to end the program, but there is uncertainty on what this would mean for those who bravely took advantage of it.[3]
U.S. Immigration and Customs Enforcement (ICE) has done little to clear things up. Recently, ICE has turned to Twitter to communicate with the public.[4] This communication comes at a tense time for immigrants, both those with and without legal status in the United States. News of arrests, deportations, and investigations have flooded the media and questions have yet to be answered from the Trump Administration as to how he will be altering the policies left in place by the Obama Administration.[5]
The recent flood of tweets from ICE officials confirm that there is no longer protection under DACA. One tweet stated: "Deferred action may be revoked anytime especially when someone commits a crime or poses a national security threat."[6] Another explained that DACA is not a protected legal status, but active DACA recipients are typically a lower level of enforcement priority."[7]
So far, Trump has not done away with DACA.[8] Completely removing the program after thousands came out of hiding to pursue some form of protection and legality would be chaotic. The Trump Administration seems to realize, at least in part, how damaging such removal could be.
"We're gonna show great heart," Trump said last month. "DACA is a very, very difficult subject for me, I will tell you."[9]
With time, the immigration policies under Trump will hopefully become more comprehensive. Fear of the unknown is something Americans and immigrants face with every new president. In the age of social media, it is important for agencies and politicians to monitor what information is being communicated and the impact of that communication.
Sources
---
[1] https://www.uscis.gov/humanitarian/consideration-deferred-action-childhood-arrivals-daca#guidelines
[2] Rosa Flores, ICE Twitter messages fuel deportation fears for student, 19, CNN.com (March 13, 2017).
[3] Id.
[4] Id.
[5] Jennifer Medina, Immigrant Protected Under Obama Program Now Fights His Arrest, New York Times, (February 14, 2017).
[6] Rosa Flores, ICE Twitter messages fuel deportation fears for student, 19, CNN.com (March 13, 2017).
[7] Id.
[8] Id.
[9] Id.