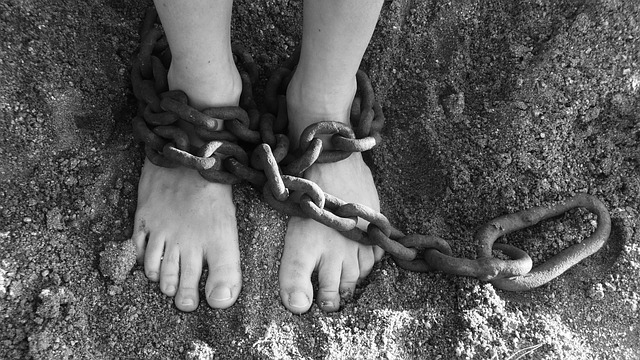 By Amy Kerlin, Staff Writer
The Department of Homeland Security classifies human trafficking as a form of modern-day slavery that involves the use of manipulation, coercion, fraud, or force to compel a victim into some type of labor or commercial sexual act.[1] Although the Federal Bureau of Investigation believes human trafficking is the third-largest criminal activity in the world,[2] human trafficking goes widely unreported. One of the reasons human trafficking goes unreported is a victim's own fear of criminal prosecution for crimes of solicitation or prostitution.
Before 2010, adult and child victims of human trafficking were being prosecuted and charged with prostitution for reporting their trafficking and trafficker.[3] At that time, the criminal justice system used a prosecutorial rather than a victim-focused method of action.[4] Thus, law enforcement officers were under the guise that arresting minors was the only way to address the issue, misunderstanding the permanent emotional and psychological effects on the victim.[5] To combat this prosecutorial approach, the first "Safe Harbor" law was enacted in 2010 to protect human trafficking victims from prosecution for reporting their traffickers.[6] As of Fall 2015, however, 16 states, including Pennsylvania, had not enacted safe harbor legislation.[7]
Safe Harbor laws were first developed to address inconsistent treatment of children exploited in the commercial sex slave trade.[8] Prior to Safe Harbor laws, children that were saved from exploitation were in turn charged and convicted of prostitution.[9] Now, in states that have enacted these laws, partial or complete immunity from prosecution or conviction is granted to minors saved from exploitation rings.[10] Additionally, minor victims are provided with support services, such as medical and psychological treatment, emergency and permanent housing, and other educational or job training assistance.[11]
In regards to Pennsylvania, the Commonwealth is considered a "pass-through" state for traffickers to transport victims to the Midwest because of the highways and easy routes to other states.[12] The FBI has uncovered human trafficking in Western Pennsylvania and has conducted sting operations in many of the hotels in the area.[13] Pennsylvania, as a "pass-through" state, is also a location for traffickers to relocate victims.[14] Furthermore, although Pennsylvania does have a human trafficking statute,[15] a 2015 report conducted by Shared Hope International revealed that Pennsylvania ranked 35 out of 51 states on the effectiveness of state legislation addressing domestic child sex trafficking.[16]
To address Pennsylvania's lack of support and immunity for child victims, Sen. Stewart Greenleaf proposed a Safe Harbor law as an amendment to Titles 18 and 42 of the Pennsylvania Consolidated Statutes as S.B. 851. 2015.[17] The safe harbor legislation would provide training to law enforcement to identify sexually exploited children, as well as require officers to immediately report victims under 18 years of age to the Department of Human Services.[18]
The bill would direct the Department of Human Services to develop a comprehensive plan to provide safe long-term housing for victims, education and life-skills training, and counseling and therapy resources for child victims. Most notably, the proposed bill would immunize any child sex trafficking victim under the age of 18, treating minor victims as victims rather than criminals, and divert victims to human services rather than the criminal justice system. The bill provides a non-exhaustive list of prostitution-type offenses for which a minor victim may not be charged. It also provides a reimbursement fee for tattoo removal costs in instances where traffickers have marked their victims with identifying tattoos.[19]
This Pennsylvania Safe Harbor Law proposes the modern trend of a victim-centered focus by providing a holistic approach centered on victim protection, immunity, and care. S.B. 851 was referred to the Judiciary Committee, which heard arguments in September 2015. The bill was then re-reported as committed on September 26, 2016. It is currently in the Senate awaiting movement.
Overall, Safe Harbor legislation works two-fold, providing safe housing, counseling, and educational training, while also establishing tougher sentences and harsher convictions of traffickers. In order for the United States to eliminate human trafficking, states must not continue to treat victims as wrongdoers but instead provide the counseling and support needed for recovery. Pennsylvania legislation must both reflect criminalization of human trafficking and also provide immunity for minor sex trafficking survivors by enacting this Safe Harbor law.
Sources
---
[1] What is Human Trafficking, Department of Homeland Security, https://www.dhs.gov/blue-campaign/what-human-trafficking.
[2] Human Trafficking/Involuntary Servitude, Federal Bureau of Investigation, https://www.fbi.gov/investigate/civil-rights/human-trafficking.
[3] Tessa L. Dysart, Child, Victim, or Prostitute? Justice Through Immunity for Prostituted Children, 21 Duke J. Gender L. & Pol'y 255, 255 (Spring 2014).
[4] Id.
[5] Kelly Heinrich and Kavitha Sreeharsha, The State of State Human-Trafficking Laws, American Bar Association, Vol. 52, No. 1, http://www.americanbar.org/publications/judges_journal/2013/winter/the_state_of_state_humantrafficking_laws.html.
[6] Id.
[7] Id.
[8] Human Trafficking Issue Brief: Safe Harbor, Polaris Project, Fall 2015, https://polarisproject.org/sites/default/files/2015%20Safe%20Harbor%20Issue%20Brief.pdf.
[9] Id.
[10] Id.
[11] Id.
[12] Felicia A. Petro, Human trafficking is alive and well in Western Pennsylvania, Allied News, October 17, 2014, http://www.alliednews.com/news/human-trafficking-is-alive-and-well-in-western-pennsylvania/article_f2dc1444-5637-11e4-aba5-47b47ce4ae1b.html.
[13] Id.
[14] Robert Swift, Spotlight on human trafficking in Pennsylvania, The Citizen's Voice, July 23, 2012, http://citizensvoice.com/news/spotlight-on-human-trafficking-in-pennsylvania-1.1346861.
[15] 18 Pa.C.S.A. § 3011.
[16] 2015 Protected Innocence Challenge: A Legal Framework of Protection for the Nation's Children, Shared Hope International, pg. 16, 2015, http://sharedhope.org/wp-content/uploads/2015/11/PIC2015REPORT2.pdf.
[17]  Senate Bill No. 851, Pennsylvania One Hundred Ninety-Ninth General Assembly – 2015-2016.
[18] Senator Stewart J. Greenleaf and Senator Daylin Leach, Senate Co-sponsorship Memoranda – Safe Harbor in Human Trafficking, May 5, 2015.
[19] Id.