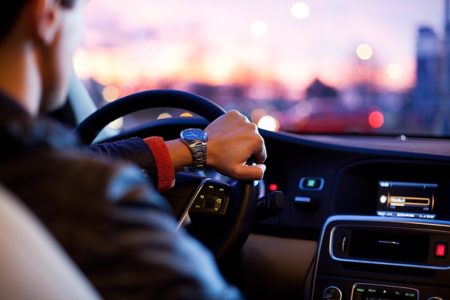 By Nicole Prieto, Web Editor
It is no news that ride-sharing services have had a bumpy relationship with the law for the last few years. Take then-Gov. Jan Brewer's veto of a bill in 2014, for instance, that would have initially legalized ride-sharing in my home state of Arizona.[1] That same year, Juris Magazine's former editor-in-chief, Meghan Collins, wrote on Uber and Lyft's precarious operating status in Pittsburgh.[2]
Nowadays, the major question that has been floating around — aside from queries about Pittsburgh's driverless Ubers[3] — is whether ride-sharing drivers may be considered employees, rather than independent contractors.
The application materials to be a ride-sharing driver may not necessarily serve as the be-all and end-all once things head to court. Still, they may shed some light on what everyone thinks they are agreeing to when they either metaphorically don Lyft's pink mustaches (giant fuzzy versions now retired[4]) or stick Uber's "U" decals on their windshields.
On at least one of its sign-up pages, before you even create an account to apply as an Uber driver, you are told twice that you are getting on board to be an independent contractor.[5] The taxicab company from my hometown recently debuted a new iteration of its own ride-sharing service.[6] On the application page to be a "Discount Ride" driver, there is a notice near the middle whose first sentence reads: "This opportunity is for an independent contractor involving part-time or full-time [work]."[7]
For Lyft, prior to Friday, item 19 in its Term of Service laid out in its entirety: "You and Lyft are independent contractors, and no agency, partnership, joint venture, employee-employer or franchisor-franchisee relationship is intended or created by this Agreement."[8] Effective as of Sept. 30, however, Lyft's terms now include a healthy clarification that not only do drivers lack authority to hold themselves "out as [ ] employee[s], agent[s] or authorized representative[s] of Lyft," Lyft also does not exercise any control of drivers' performances in general.[9]
[pullquote]Uber Drivers must strictly follow a litany of very specific company imposed regulations that govern how, when, where and who gets to work[.][/pullquote]
The position of companies providing these services is clear. But time and pending litigation will tell how much that really holds water. Uber, perhaps unsurprisingly, has been front-and-center of this debate.
In 2015, driver Barbara Ann Berwick sued Uber before the Labor Commissioner of the State of California, which found that she was an employee.[10] Though, Uber did make a statement on how the "ruling is non-binding and applies to a single driver."[11]
This past August, the U.S. District Court for the Northern District of California rejected a settlement agreement reached between Uber and a class comprised of its drivers from California and Massachusetts.[12] The plaintiffs originally sued to challenge the misclassification of Uber drivers as independent contractors.[13] In assessing the risks of any litigation moving forward, the court reminded both parties of the strengths and limitations of their positions:
Several factors [of California's Borello test] pointed in favor of employment status, such as: (1) driving is an occupation that typically does not require close supervision, (2) driving does not require a special skill, and (3) the drivers were performing a regular and integral part of Uber's business. On the other side, several factors favored independent contractor status, including: (1) the drivers' use of their own vehicles, (2) the ability of drivers to employ other drivers to drive on their own behalf, and (3) the drivers signing an agreement stating no employment relationship was created.[14]
Uber is also contending with a class-action suit brought by the New York Taxi Workers Alliance. The amended complaint, filed on Sept. 20, states that "Uber Drivers must strictly follow a litany of very specific company imposed regulations that govern how, when, where and who gets to work, yet Uber enjoys the benefits of misclassifying its Drivers as 'independent contractors.'"[15]
The employment question has also been brought by the drivers' cabbie counterparts. This summer, the National Labor Relations Board sided with a 2015 ruling that taxi drivers are employees,[16] a decision which covers "200 AAA Transportation/Yellow Cab drivers in Tucson."[17] In 2015, Oregon's Supreme Court affirmed that taxicab drivers for Broadway Cab LLC did not meet the state's requirements for being independent contractors.[18] The drivers' cars could not be considered separate business locations, as their driving services extended throughout Portland, and they could not hire others to perform those services in their stead.[19]
For now, the lawyerly answer to ride-sharing drivers' employment status is, "It depends," but it is unlikely to stay that way for long. How pending decisions play out could have serious ramifications for these drivers across the nation, such as whether they may qualify for unemployment benefits, as former Uber driver Patrick Ely did.[20]
From the companies' perspectives, it could be a rude awakening to their current business models and could perhaps deter others from staking similar claims in the "gig" economy. Then again, the outcomes may not matter. In an era of self-driving Ubers, all of this could soon be a moot point — assuming, of course, that fully autonomous technology actually becomes a reality.[21]
Sources
---
[1] Hank Stephenson, Illegal, but here to stay: Rideshare companies say they won't leave Arizona, Arizona Capitol Times (May 2, 2014), http://azcapitoltimes.com/news/2014/05/02/uber-lyft-illegal-but-say-they-wont-leave-az/.
[2] Meghan Collins, The Fate of Uber and Lyft in Flux, Juris Magazine (Nov. 10, 2014), http://sites.law.duq.edu/juris/the-fate-of-uber-and-lyft-in-flux/.
[3] Mike Jones, All Eyes on Pittsburgh, Juris Magazine (Oct. 1, 2016), http://sites.law.duq.edu/juris/all-eyes-on-pittsburgh/.
[4] Kyle VanHemert, Lyft Is Finally Ditching the Furry Pink Mustache, Wired (Jan. 20, 2015), https://www.wired.com/2015/01/lyft-finally-ditching-furry-pink-mustache/.
[5] Sign Up To Drive With Uber – Earn Cash With Your Car, Uber, https://get.uber.com/drive/?exp=c.
[6] Alexa D'Angelo, Total Transit launches new ride-share app, Phoenix Business Journal (Sept. 12, 2016), http://www.bizjournals.com/phoenix/news/2016/09/12/total-transit-launches-new-ride-share-app.html.
[7] Discount Ride Driver, Discount Cab, https://dcjobs.fasthr.net/ApplyForm.aspx?jobcode=IVRCODE4241.
[8] Lyft Terms of Service, Lyft (Feb. 8, 2016), https://webcache.googleusercontent.com/search?q=cache:IP_HVtwn28UJ:https://www.lyft.com/terms+&cd=1&hl=en&ct=clnk&gl=us.
[9] Lyft Terms of Service, Lyft (Sept. 30, 2016), https://www.lyft.com/terms.
[10] Alyson Shontell, California Labor Commission rules an Uber driver is an employee, which could clobber the $50 billion company, Business Insider (June 17, 2015), http://www.businessinsider.com/california-labor-commission-rules-uber-drivers-are-employees-2015-6.
[11] Id.
[12] O'Connor v. Uber Techs., Inc., No. 13-cv-03826-EMC, 2016 BL 268517 (N.D. Cal. Aug. 18, 2016).
[13] Id.
[14] Id. at *15 (internal citations omitted).
[15] First Amended Complaint and Jury Trial Demanded at 3, New York Taxi Workers Alliance et al v. Uber Technologies, Inc. et al, No. 1:16-cv-04098-AKH (S.D.N.Y. Sept. 20, 2016).
[16] Robert Iafolla, NLRB rejects cab company challenge to ruling that drivers are employees, Reuters (July 1, 2016), http://www.reuters.com/article/usa-employment-classification-idUSL1N19N0IV.
[17] Mark Gruenberg, NLRB Declares Taxi Drivers Are Employees, Can Vote to Unionize, United Steelworkers (Nov. 18, 2015), http://www.usw.org/blog/2015/nlrb-declares-taxi-drivers-are-employees-can-vote-to-unionize.
[18] Broadway Cab LLC v. Emp't Dep't, 364 P.3d 338 (Or. 2015).
[19] Id. at 346-47.
[20] Marisa Kendall, Uber driver wins unemployment benefits, The Mercury News (March 7, 2016), http://www.mercurynews.com/2016/03/07/uber-driver-wins-unemployment-benefits/.
[21] Danielle Muoio, Uber's self-driving cars are impressive – but there's still a lot they can't do, Business Insider (Sept. 19, 2016), http://www.businessinsider.com/uber-driverless-car-problems-2016-9/#a-big-problem-for-self-driving-cars-is-simply-having-to-deal-with-other-human-drivers-on-the-road-1.