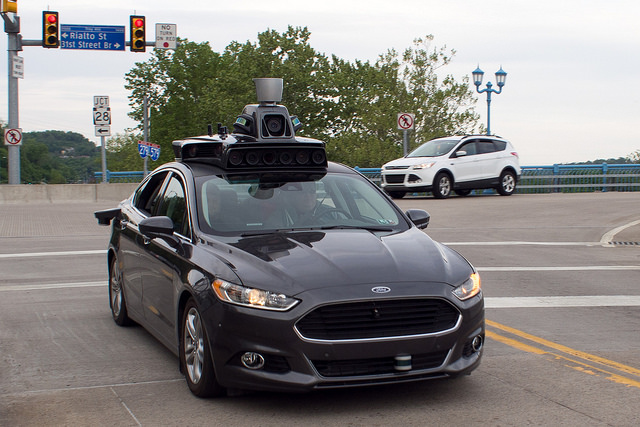 By Mike Jones, Editor-in-Chief
Pittsburgh has reached the culmination of what it has been working toward: becoming the hub of technology and innovation in the United States. On Sept. 14, Uber introduced its first self-driving cars, and the online transportation behemoth gave Yinz the first opportunity to test them.[1]
The Steel City arrived at this juncture by reinventing itself as a health care and technology haven after the steel industry left in the 1980s. The emergence of Carnegie Mellon's superb navigation of its robotic engineering program invited innovative minds and companies to the area. The arrival of Uber in Pittsburgh was calculated, and, despite the hiccups that followed, the city and the ride-share service will look at the decision to move to Pittsburgh as a great opportunity to shape the growing industry.
Uber arrived in Pittsburgh in 2014 to a city that was "arguably the worst taxicab town in North America."[2] The Yellow Cab held a monopoly, while the infamous jitney system picked up the slack.[3] The people of Allegheny County welcomed Uber, but the Pennsylvania Public Utilities Commission (PUC), which regulates a number of utilities including passenger transportation, found Uber failed to receive authorization from the commission and comply with regulated operating practices.[4]
The PUC filed a complaint against the company and slapped a cease-and-desist on it.[5] Uber immediately filed for Emergency Temporary Authority (ETA), which was granted.[6] The Commission asked Uber to comply with conditions that mirror the company's existing operations, along with extra safety precautions.[7] The ultimatum stated Uber would have to comply or "immediate enforcement actions" would be issued, including the revocation of the ETA. Shortly thereafter, the company was given a two-year certificate of public convenience to operate within the Commonwealth.[8]
Recently, a 3-2 vote from the PUC ordered an $11.4 million penalty on Uber for driving without authorization between February and August 2014; the penalty is the largest the commission has issued in its 79-year history.[9] Meanwhile, Lyft, a competing ride-share service also in Pittsburgh, was only penalized $225,000 for similar action.[10] In Commissioner Robert F. Powelson's dissent,[11] he pointed out that there had not been any "fatalities, serious bodily injury, significant property damage, or patterns of unsafe business practices that jeopardize public safety."[12]
[pullquote]When there is no other dude in the car, the cost of taking an Uber anywhere becomes cheaper than owning a vehicle.[/pullquote]
Gov. Tom Wolf, Allegheny County Executive Rich Fitzgerald, and Pittsburgh Mayor Bill Peduto have asked the commission to reduce the "unprecedented fine," and to treat Uber "like any other company, [as] the regulation of its business should be in line with that applied to all other businesses."[13]
A lawsuit against the Commonwealth and a hefty fine did not slow down the innovative ride-sharing app valued at $50 billion. While this was going on, Uber and Carnegie Mellon University partnered together to "do research and development, primarily in the areas of mapping and vehicle safety, and autonomy technology."[14]
When explaining why Uber would choose to remove its 160,000 independent contractor drivers from around the world over a multi-decade transition, CEO Travis Kalanick pointed out that "[t]he reason Uber could be expensive is because you're not just paying for the car — you're paying for the other dude in the car. . . . When there is no other dude in the car, the cost of taking an Uber anywhere becomes cheaper than owning a vehicle."[15]
In spite of their partnership, Uber spent the first month of 2015 poaching nearly 50 researchers and scientists from Carnegie Mellon's National Robotics Engineering Center (NREC).[16] The man behind the poaching, John Bares, is Uber's lead recruiter and previously ran CMU's NREC from 1997 until 2010.[17]
Earlier in September, Uber sent out an invitation to its most loyal customers in Pittsburgh to try out the automated cars. And while the pilot program for the fleet of 14 self-driving cars still has a number of issues to fix and is "not quite practical yet," this was a test run for the world to see what Uber is capable of.[18]
On the heels of the breakthrough, the federal government gave its full endorsement of the nascent technology, predicting it will greatly reduce the 35,092 auto-related casualties in the United States in 2015.[19] New technology and a government endorsement beget regulations. The United States Department of Transportation released its first policy paper for the "safe introduction and deployment of" automated vehicles.[20]
The safety expectations enunciate that the auto and tech companies behind these vehicles must: share the collected data with regulators; provide car owners with an understanding of what data is being collected; engineer the car to safely respond to software malfunctions, including the capability to fluidly switch from autopilot to human control mode; have software that prevents online attacks; meet National Highway Traffic Safety Administration regular standards for crashworthiness; comply with various state and local authorities laws, including speed limits and traffic signs; prove the car has been tested and validated; establish ethical considerations, such as whether the car will protect the occupant or other drivers in crash situations, or whether violating traffic laws when a risk is imminent; and a number of other regulations.[21]
This month, President Barack Obama will preside over the White House Frontiers Conference, a convention to "explore the future of innovation here and around the world."[22] It will be hosted by Carnegie Mellon University and University of Pittsburgh. We are sure to hear news regarding the policies and practices of Uber, the automated driving car, and what the path forward looks like.
The road that brought the Steel City to this intersection has been long, and the road ahead is unsure, but Pittsburgh has the opportunity to pave its own way forward and shape the future right now.
Sources
---
[1] Pittsburgh, your Self-Driving Uber is arriving now, Uber Newsroom, Sept. 14, 2016, https://newsroom.uber.com/pittsburgh-self-driving-uber/.
[2] Bill Steigerwald, Pittsburgh Welcomes Uber, The New York Times – Opinion Page, Sept. 21, 2016, http://www.nytimes.com/2016/09/22/opinion/pittsburgh-welcomes-uber.html.
[3] Id.
[4] Press Release: PUC Orders $11.4 Million Penalty Against Uber for Operating Without Authority in 2014, Pennsylvania Public Utility Commission, April 21, 2016, http://www.puc.pa.gov/about_puc/press_releases.aspx?ShowPR=3687.
[5] Id.
[6] Id.
[7] Robert F. Powelson and Pamela A. Witmer, Conditions for Uber, Pittsburgh Post-Gazette, Nov. 21, 2014, http://www.post-gazette.com/opinion/Op-Ed/2014/11/21/Robert-F-Powelson-and-Pamela-A-Witmer-Conditions-for-Uber/stories/201411210062.
[8] Supra, Pennsylvania Public Utility Commission.
[9] Uber Excess: PUC goes way overboard with $11.3 million fine, Pittsburgh Post-Gazette, May 5, 2016, http://www.post-gazette.com/opinion/editorials/2016/05/05/Uber-excess-PUC-goes-way-overboard-with-11-4-million-fine/stories/201605050042.
[10] Id.
[11] The same commissioner who wrote the stern ultimatum for Uber to comply now finds the penalty against Uber too high.
[12] Supra, n. 4.
[13] Letter to Pennsylvania Public Utility Commission, Gov. Tom Wolf, Allegheny County Executive Rich Fitzgerald, Mayor of Pittsburgh Bill Peduto, May 3, 2016.
[14] Uber and CMU Announce Strategic Partnership and Advanced Technologies Center, Uber Newsroom, February 2, 2015, https://newsroom.uber.com/uber-and-cmu-announce-strategic-partnership-and-advanced-technologies-center/.
[15] Casey Newton, Uber will eventually replace all its drivers with self-driving cars, The Verge, May 28, 2014, http://www.theverge.com/2014/5/28/5758734/uber-will-eventually-replace-all-its-drivers-with-self-driving-cars.
[16] Mike Ramsey and Douglas MacMillan, Carnegie Mellon Reels After Uber Lures Away Researchers, The Wall Street Journal, May 31, 2015, http://www.wsj.com/articles/is-uber-a-friend-or-foe-of-carnegie-mellon-in-robotics-1433084582.
[17] Id.
[18] Liz Reid, What It's Like To Ride In A (Nearly) Self-Driving Uber, NPR – All Tech Considered, Sept. 14, 2016, http://www.npr.org/sections/alltechconsidered/2016/09/14/493823483/self-driving-cars-take-to-the-streets-of-pittsburgh-courtesy-of-uber.
[19] U.S. Department of Transportation, Federal Automated Vehicles Policy, 5, Sept. 2016, https://www.transportation.gov/AV/federal-automated-vehicles-policy-september-2016.
[20] Id. at 6.
[21] Id.
[22] The White House Frontiers Conference, http://frontiersconference.org/.