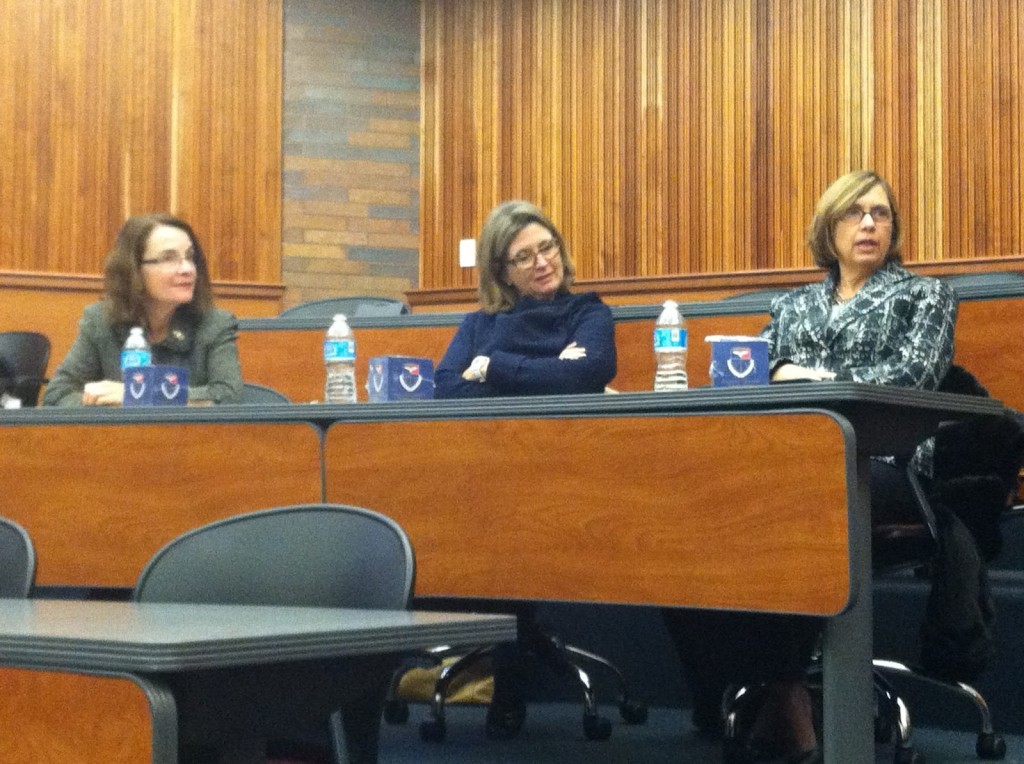 by Judy Hale Reed, Staff Writer
What was it like to practice law before maternity or parental leave policies existed, or if they did, the expectation was to never actually take the leave?  Or when women were recruited to new ambitious firms because the founding members needed a woman (yes, one) in their composition?  And how important is networking, anyway?
On Thursday, January 17, Duquesne University School of Law hosted a Pennsylvania Bar Association Women in the Profession panel with three local attorneys.  They shared their experiences as legal professionals, their insights into how much things have changed, and the value of bar associations for networking and career advancement.
Judge Nora Barry Fischer, District Judge for the United States District Court for the Western District of Pennsylvania since 2007, shared her career path through local firms and onto the bench.  She also advised students about how to attain a federal clerking externship.  If you want to clerk, you can start the process at the Clinical Legal Education website here.  The Duquesne Law Clinical Program also manages all externships.
Both of the other panelists have crossed professional paths with the Judge.
Stacey Vernallis leads the litigation group at Goehring, Rutter & Boehm.  Ms. Vernallis discussed the importance of not being just a member of a bar association, but participating fully and developing your leadership quotient.  She defined leadership quotient as one's demonstrated, known leadership value; put another way, it is one's reputation as a competent, successful leader.  Plus, serving on a committee is, for most of us, an easier way to meet people than trying to dazzle an attorney you just met at a cocktail reception.
Beth Fischman just completed a temporary contract position with Bernstein-Burkley, P.C.  Ms. Fischman discussed the importance of connections gained through service with bar associations.  She pointed out that the PBA has a huge membership with many committees, including diversity, membership, legislative, promotion of women, quality of life, governance, communication and public service just to name a few.  The PBA has about 30,000 members, 50 committees, and 20 sections.
Ms Fischman told the audience about two upcoming opportunities to meet PBA attorneys in Pittsburgh.  The PBA mid-year meeting will be held in Pittsburgh in March, and the PBA annual meeting will be in Pittsburgh on May 8-9, 2013 at the Wyndham Grand Pittsburgh Downtown.  Like this panel, these will be great opportunities to take a break from studying for some high-powered networking and career exploration, just a short walk from campus.
Maria Comas, Director of the Law School Career Services Office (CSO), added that "students interested in externships can contact the CSO to review application materials and use the judicial directories in the CSO Resource Center."
Bar Associations in Our Area:
Pennsylvania Bar Association  [http://www.pabar.org/]
Students Join FREE [http://tinyurl.com/joinpabar]
Allegheny County Bar Association [http://www.acba.org/]
Western Pennsylvania Women's Bar Association [http://www.wbawpa.com/]
Asian Pacific American Bar Association of Pennsylvania (APABA-PA)  [http://www.apaba-pa.org/]
Hispanic Bar Association of Pennsylvania (HBAPA) [http://www.hbapa.com/]
American Bar Association [http://www.americanbar.org/aba.html]
Judy Hale Reed is a second year student at Duquesne. She had a pre-law career in international human rights focused on gender equality and anti-trafficking in persons, speaks Romanian, and sometimes bikes to school. She serves as the Pennsylvania Bar Association Student Liaison for the Class of 2014 and holds a BA in Sociology and Women's Studies from Ohio University and an MPA from Seattle University.