Editor-in-Chief: Chris O'Shea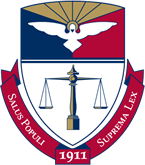 The Editor-in-Chief must serve as the chief officer and editor of Review. The Editor-in-Chief has the ultimate authority to determine what writings will be published in Review. However, the current Board may bind the following year's Board to publish one or more Symposium Issues and/or execute a Symposium, according to the plans made by the current Board. Additionally, the Editor-in-Chief operates as a liaison among Review and the Faculty and Administration of the Law School.
The Editor-in-Chief has discretion to render decisions, otherwise requiring action by the Board, unilaterally where the exigencies of a situation demand immediate action and a meeting of the Board is impractical. He/She is the only Review member who can expressly enter into contractual agreements on behalf of Review. Furthermore, the Editor-in-Chief must plan and execute Orientation for Junior Staff, and oversee the Executive Articles Editors as they format pieces for publication and must review their work before publication of any issue of Review. Put more simply, the Editor-in-Chief is the "CEO" of Duquesne Law Review.