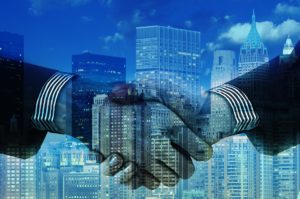 By Phil Raymond, Staff Writer
On November 20, 2017, the United States Justice Department, led by the Department's antitrust division head Makan Delrahim, filed suit against media giants AT&T and Time Warner for a proposed merger worth nearly $85.4 billion. The Justice Department made its case in a 23-page complaint filed before the Federal District Court of the District of Columbia, arguing that the proposed vertical merger violates Section 7 of Clayton Antitrust Act of 1914.[1] While not a monumental move by the Justice Department—it has sued to halt mergers of this magnitude before—it sets the tone for the current administration's stance on antitrust litigation.
The proposed merger is known as a "vertical merger," which merges two companies that previously bought or sold from each other into one company, an example being a manufacturer merging with a distributor selling its products.[2] The opposite, known as a "horizontal merger," involves merging two companies that occupy the same market; thus, the combined sales of both companies offer a greater share of the market.[3]
AT&T, owner of DirecTV, arguably the nation's largest distributor of subscription television, seeks to obtain Time Warner, the owner of top TV networks like CNN, TNT, TBS, and HBO.[4] The Justice Department alleges that the combined firm would likely "use its control of Time Warner's popular programming as a weapon to harm competition."[5] Such a tactic, the Justice Department contends, violates antitrust law, specifically Section 7 of the Clayton Act.[6]
For clarity, antitrust litigation focuses in part on the prevention of corporate monopolies, price-fixing, and corporate mergers likely to reduce competition in particular markets.[7] Antitrust litigation primarily is driven by three federal laws: the Sherman Antitrust Act of 1890; the Clayton Act; and the Federal Trade Commission Act of 1914.[8]
The Justice Department's suit focuses on Article 7 of the Clayton Act, which prohibits acquisitions between corporations that have the effect of substantially lessening competition, or that lead to creation of a monopoly.[9] Specifically, the Justice Department argues in its brief that the proposed merger would lessen competition in interstate trade and commerce in both "All Video Distribution" and "Multichannel Video Distribution" markets throughout the country.[10]
The thrust of the Justice Department's argument premises that, should AT&T control Time Warner's highly popular networks like CNN and TBS, AT&T effectively could charge smaller cable network providers exorbitant prices to carry such programs. Thus, the Justice Department continues, should AT&T "walk away from the bargaining table," with cable providers, Time Warner's channels would go dark on that cable provider's network, and the cable provider's customers would cancel their subscriptions and walk away.[11]
While plausible, the Justice Department's argument may assume too much. A major issue with the Justice Department's stance is that it assumes a cable network's customers automatically would drop their subscriptions without Time Warner's channels. Furthermore, the Justice Department speculates that dissatisfied customers would even switch to DirecTV, owned by AT&T, rather than dropping cable altogether and instead opt for providers such as Netflix or Amazon Prime Video. However, if the Justice Department sustains its burden under the Clayton Act and prove that the merger would substantially lessen competition, the proposed merger may be blocked.
To further complicate the matter, the Justice Department's position potentially was undermined by recent comments by President Donald J. Trump. On November 25, 2017, President Trump on Twitter lambasted CNN, owned by Time Warner, stating that CNN is "fake news" and represents America poorly.[12] In a colorful response, Norm Eisen, chief White House ethics lawyer under former President Barack Obama, urged that President Trump's tweet could be used against the Justice Department in its suit against AT&T and Time Warner.[13] Indeed, the comment could serve as a point of attack for AT&T that the Justice Department filed its lawsuit pursuant to President Trump's dislike of CNN, rather than a genuine antitrust concern.[14]
The result of this suit will be monumental, regardless of the outcome. Should AT&T and Time Warner prevail, we could see one of the largest, if not the largest, pay-TV distributors in existence. Should the Justice Department prevail, it signals a shift in the Justice Department's approach to vertical mergers because, historically, the Department has elected not to disturb these mergers, requiring instead that corporations promise not to engage in anti-competitive behavior.[15]
Sources
---
[1] https://www.law.com/nationallawjournal/sites/nationallawjournal/2017/11/20/read-the-complaint-united-states-v-att/
[2]  https://www.investopedia.com/terms/h/horizontalmerger.asp
[3]  Id.
[4] https://www.law.com/nationallawjournal/sites/nationallawjournal/2017/11/20/read-the-complaint-united-states-v-att/
[5]  Id.
[6]  Id. See 15 U.S.C. § 18. Acquisition by one corporation of stock of another.
[7]  https://www.investopedia.com/terms/a/antitrust.asp
[8]  Id.
[9]  15 U.S.C. § 18.
[10] https://www.law.com/nationallawjournal/sites/nationallawjournal/2017/11/20/read-the-complaint-united-states-v-att/
[11]  Id.
[12]  http://www.newsweek.com/trumps-cnn-fake-news-attacks-could-come-back-haunt-him-obama-lawyer-says-722651
[13]  Id.
[14]  Id.
[15]  https://www.bloomberg.com/view/articles/2017-11-24/justice-has-a-case-on-at-t-time-warner
Comments
comments