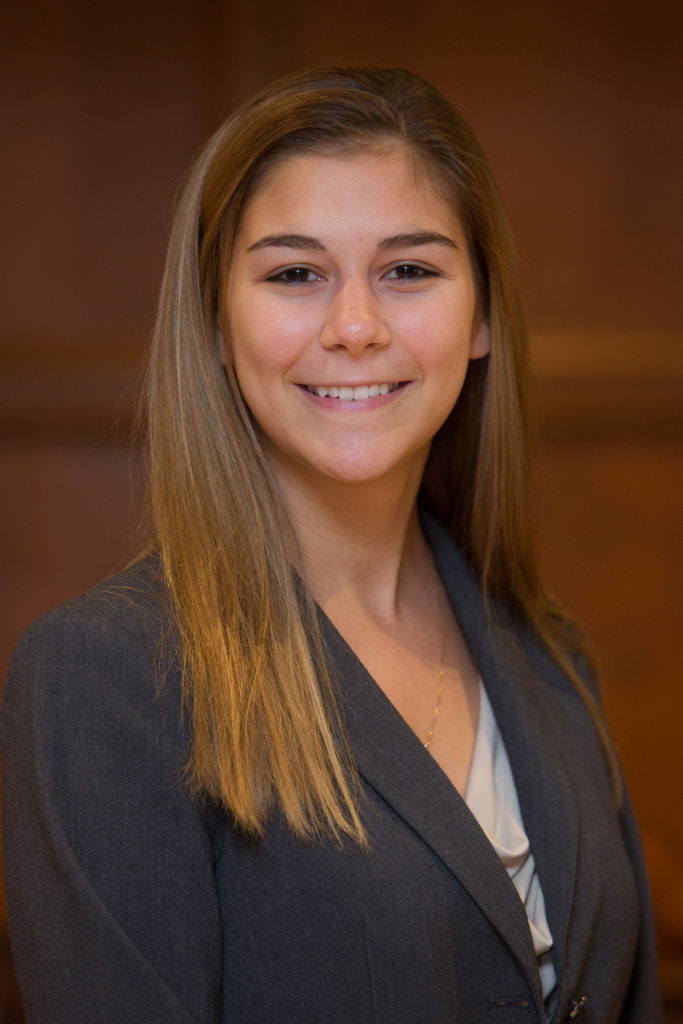 By Natalie Tupta, Staff Writer
One of the most distinguishable features of Duquesne lawyers and students is the "unique emphasis on justice and service to others," which is a gift from Duquesne's Spiritan founders.[1] Because of this moral and ethical grounding, many Duquesne Law students pursue internships and careers in public interest in public service.
One such student is Amanda Geary, a third-year Duquesne Law student. Geary spent last summer interning at the Southern Poverty Law Center (SPLC), a nonprofit organization that is nationally recognized for pursuing justice for marginalized people through litigating civil rights cases, advocating for legislative reform, identifying and exposing hate groups, and developing school teaching materials that reduce prejudice and support equitable school experiences for children.[2]
Geary agreed to share her experience at SPLC and give some advice for students who are interested in seeking public interest law internships. She is an admirable example to other Duquesne Law students of someone who has utilized her passion for social justice to secure an internship that sets her up for a career of pursuing justice.
Geary chose to attend law school so she could make a different in people's lives, because being a lawyer is a good avenue to pursue social justice. In light of that goal, she decided to look for an internship at the Equal Justice Works Conference and Career Fair, the largest national public interest legal career fair in the country, held each fall in Arlington, Virginia.[3]
At the career fair, Geary met with recruiters from several public interest organizations, including SPLC. During her interview with SPLC, she connected with the recruiters over the research she was conducting on criminal sentencing practices and prison reform in Allegheny County. Impressed by Geary's expertise in these criminal justice issues, the SPLC recruiters offered her an internship position where she could work on similar issues at SPLC.
Geary then spent the summer in SPLC's Miami office, where she worked with attorneys and community advocates to identify injustices and research legal theories that could be used to address those injustices. Her work focused on criminal justice and immigration issues that affect both adults and juveniles. She was impressed by SPLC's method of pursuing systemic change through impact litigation and legislative action, because she could see that her work would impact many people affected by systemic injustices. Geary primarily assisted with civil rights litigation, but she enjoyed working in collaboration with SPLC staff who focused on legislative reform efforts in in Tallahassee, Florida's capitol. She is grateful for her experience at SPLC and is inspired to keep pursuing social justice in her legal career.
Geary offers three pieces of advice for obtaining a public interest law internship. First, Geary advises that law students interested in a public interest internship work hard in law school classes and focus on developing their legal analysis skills. She says it is very competitive to get an internship at a public interest organization, so it is important to demonstrate that you have the skills public interest employers are looking for.
Second, it is crucial discern your passions and to pursue positions that allow you to explore and develop those passions. Oftentimes, your passion that lends itself to public interest work evidences itself in experiences like working with disenfranchised populations, learning an additional language, and researching social justice issues. Public interest employers seek candidates whose interests align with their organizational mission, so being able to explain how your passions make you a good team member at that organization is crucial to a successful interview.
Third, Geary recommends taking advantage of all networking opportunities students find as they pursue a career in public interest law. In her experience, the public interest law community is a tight-knit community, so getting to know others can bring a variety of experiences and connections that help you to pursue your passions. For example, Geary made an effort during her SPLC internship to volunteer on the weekends at immigration clinics, where she met interns and attorneys from other nonprofits. Geary hopes other Duquesne Law students will take advantage of the networking opportunities available at Duquesne and in their other networks in order to reach their personal and professional goals.
After graduation, Geary will work as a federal judicial law clerk. She is excited for the opportunity to begin her law career in public service, in a position where she will get to sharpen her skills and gain a greater understanding of federal practice. Her choice to pursue a federal clerkship was inspired by her colleagues at the SPLC, many of whom had federal practice experience prior to working at SPLC, whether as judicial clerks or as lawyers litigating cases in federal court. Geary looks forward to spending her legal career using the skills she has learned at Duquesne Law School to help others.
Sources
---
[1] Duquesne University School of Law, "About the School of Law," https://www.law.duq.edu/about.
[2] Southern Poverty Law Center, "What We Do," https://www.splcenter.org/what-we-do.
[3] Equal Justice Works, "2017 Conference and Career Fair – October 27 & 28," http://www.equaljusticeworks.org/law-school/conference-and-careerfair.
Comments
comments