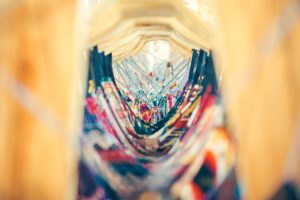 By Jennifer Carter, Staff Writer
Forever 21. H & M. Charlotte Russe. If you've visited a shopping center or suburban mall in the last decade, you are bound to recognize these names. They are known as "fast fashion" retailers, and if you're like roughly half of Americans, you have likely purchased clothing at one of these stores or their neighbors in the last month[1]. But what impact do the articles of fast fashion clothing purchased today have on the fashion industry tomorrow?
The fast fashion industry appeals to our impulsive nature and the need to have the trend of the day at our fingertips. These trends stem from the works of fashion houses that labor year-round to produce a bouquet of seasonal pieces that will set the pace for upcoming months. Recently, these fashion houses have been at legal odds with the fast fashion retailers producing weekly, rather than seasonal, pieces at a percentage of the cost.[2]
The fashion designers are claiming infringement upon their copyrights filed with the United States Copyright Office. In the recent Supreme Court decision Star Athletica,[3] apparel designers saw a monumental change in the protection that clothing could receive under copyright laws. In Star Athletica, Varsity Brands (a cheerleading uniform producer) sued another uniform company for infringing upon their copyrighted designs. The Court found that the design of stripes, chevrons, and triangles placed upon the uniform were protected artistic material.[[4] A figurative celebratory cry was heard around the fashion world the day this opinion was published.
As a "useful article," clothing design has historically been exempt from copyright protection, and fashion designers have been limited to protection of only their prints and unique features that are separable from the utility of the article of clothing. The Star Athletica decision expanded what can arguably be protected as a design element as artistic intellectual property of designers.
One may wonder what effect this could have on their closet. The pieces that may be purchased from fast fashion retailers will begin to lose their appeal if courts stay on the trend of broadening copyright protection regarding clothing design. If fast fashion outlets can no longer knock off designs introduced seasonally on the runway, the demand for their cheaply and quickly made imposters may dwindle, and major fashion houses may be able to retain increased sales of their original, coveted designs.
Not only does this protect the true artists of fashion design, but it also deters an industry that wreaks havoc on the environment. Because fast fashion needs to be manufactured inexpensively, these companies use manufactured fibers like nylon and polyester rather than organic cotton, or other more expensive alternatives that leave a smaller carbon footprint in their manufacturing[5].
Furthermore, fast fashion is manufactured with the intention of being worn few times, before the piece is replaced with a newer trend, thus encouraging frequent shopping for new pieces. When these pieces are discarded, they oftentimes end up in landfills, resulting in emissions of greenhouses gases like methane, and leeching chemicals and dyes into the ground and water[6].
So the next time you see a deal too good to be true, it is likely just that. Whether it is the price tag, the knock off design, or the trend of the day being delivered right to your inbox, take a second to decide what the real cost may be.
Sources
---
[1] http://www.thecenterofshopping.com/news/industry-conditions-shopping-centers-where-americans-buy-socialize-play-and. May 19, 2016.
[2] See, e.g.  Gucci Am., Inc. v. Dart, Inc., 715 F. Supp. 566 (S.D.N.Y. 1989); Forever 21, Inc. v. Gucci America, Inc. et al, 2:17CV04706.
[3] Star Athletica, L.L.C. v. Varsity Brands, Inc., 137 S. Ct. 1002, 197 L. Ed. 2d 354 (2017)
[4] Id. at 1016.
[5]http://www.theecologist.org/green_green_living/clothing/268798/whats_the_most_sustainable_fabric.html. Feb 6, 2009.
[6] http://www.newsweek.com/2016/09/09/old-clothes-fashion-waste-crisis-494824.html, Sept. 1, 2017.
Comments
comments